FUELLERS' CAROL SERVICE AND CHRISTMAS SUPPER 9 DECEMBER 2019
1800 Carol Service at St James Garlickhythe Church Garlick Hill LONDON EC4V2AL followed by supper at the Counting House 50 Cornhill EC3V 3PD.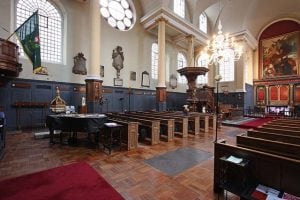 Join the Deputy Master, Wardens and fellow Fuellers on Monday 9 December for our annual carol service and supper. This is one of the best Fuellers occasions, friendly and timed to encourage your festive spirit with carols in a historic church and Christmas cheer in one of the best pubs in the City.
Once again we join the Worshipful Company of Fanmakers at St James Garlickhythe church, a unique 17th century City Church, http://www.stjamesgarlickhythe.org/contact-us, a sacred place since 1100 AD. Christopher Wren rebuilt St James in 1683 to be full of light, since when it has become known as 'Wren's Lantern'.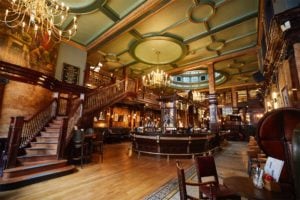 After the service we move to the Counting House, 50 Cornhill, http://www.the-counting-house.com/ one of the top pubs in London, ten minutes from the Church, for Christmas Supper. We have the sole use of the Griffin Room where we held a very successful supper last year and everyone thought the meal was excellent. The cost is £66
per head which includes the meal and the cost of the Carol Service. When you go to the website you will find the menu and you are asked to make your choices. There is a cash bar for drinks and wine.
When you book you will find a line for diet against each guest, please use this line to order your supper using the A – P with each menu choice. Please do not book without including your menu choice.
Starters
A. Fuller's London Porter smoked salmon (DF) pickled beetroot, horseradish & toasted Golden Pride sourdough
B. Chicken liver parfait
red onion chutney, toasted brioche, brandy jelly
C. Curried roasted romanesco soup (VG/GF)
raita, shallot bhaji
D. Wild mushrooms & fried duck egg (V/GF/DF)
truffle, walnuts, Brussels sprouts
E. Asahi tempura tiger prawns (DF)
garlic crouton, sweet & sour sauce
Mains – all served with sharing plates of roast potatoes & a selection of seasonal vegetables (v)
F. Usk Vale turkey breast (GF)
chestnut & apricot stuffing, pigs in blanket, gravy, cranberry & mandarin jam
(alternative available)
G. Gressingham duck leg (GF)
tarka dhal, raita
H. Salmon en croûte
Chablis cream sauce
J. Shortcrust pie of braised Hampshire venison bourguignon & parsnip
K. Baked cumin carrot & wild carrot mousse (VG/DF)
Rainbow chard & beetroot tarte, macademia nut & toasted Golden Pride sourdough crumbs
Puddings
L. Fuller's Black Cab Christmas pudding
Fuller's brandy butter ice cream
M. Rhubarb savarin cheesecake (GF)
clotted cream shortbread, Fuller's chocolate ice cream
N. Poached berries (VG/GF/DF)
yuzu gel, hazelnut crumb
O. Speckled bread & butter pudding
créme anglaise & Fuller's vanilla ice cream
P. Set milk chocolate parfait (GF)
raspberries, honeycomb & Fuller's raspberry sorbet
Please put guests choices (A to M etc) in the Dietary Requirements box on the Book Now tab. Whoever is making the booking can put their own choice in the Honours box where they enter their details.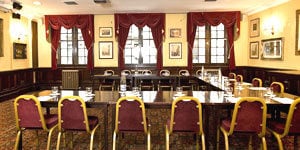 Book Now