FUELLERS' CAROL SERVICE AND CHRISTMAS SUPPER 10 DECEMBER 2018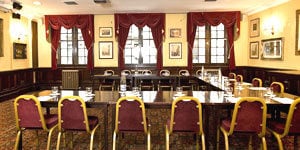 Fuellers' Carol Service and Supper 10 December 2018
1800 Carol Service at St James Garlickhythe Church Garlick Hill LONDON EC4V2AL followed by supper at the Counting House 50 Cornhill EC3V 3PD.
Join the Master, Wardens and fellow Fuellers on Monday 10 December 2018 for our annual carol service and supper. This is one of the best Fuellers occasions, friendly and timed to encourage your festive spirit with carols in a historic church and Christmas cheer in a private room in one of the best pubs in the City.
Once again we join the Worshipful Company of Fanmakers at St James Garlickhythe church, a unique 17th century City Church, http://www.stjamesgarlickhythe.org/contact-us, a sacred place since 1100 AD. Christopher Wren rebuilt St James in 1683 to be full of light, since when it has become known as 'Wren's Lantern'.
After the service we move to the Counting House, 50 Cornhill, http://www.the-counting-house.com/ one of the top pubs in London, ten minutes from the Church, for Christmas Supper. We have the sole use of the Griffin Room where we held a very successful supper last year and everyone thought the meal was excellent. The cost is £55 per head which includes the three course meal and the cost of the Carol Service. There is a cash bar for drinks and wine.
We are invited to put suitable wrapped presents under the Christmas tree (provided by the Vintners' Company) for collection and distribution by the Salvation Army. Presents should be about £5 in value and marked for girl or boy if appropriate with suggested age of the child.
Menu choices, please choose three from:
STARTERS
A. Curried roasted romanesco soup, raita, shallot bhaji (v)
B. Goose leg croquette, chicken liver pâté, quince preserve & sourdough
C. London Porter smoked salmon, clementine & beetroot slaw, goat's curd
D. Pie Masters miniature steak & London Pride pie, carrot & star anise purée, meat juices
MAINS
E. Roasted Usk Vale turkey breast, apricot & turkey stuffing, pigs in blankets & gravy
F. Pie Masters game pie, roasted venison cutlet, braised Hampshire game, Mrs Owton's bacon, roasted figs & red wine gravy
G. Torched cod, braised lentils, salsa verde
H. Squash, pinenut & spinach Wellington, tenderstem broccoli, blue cheese sauce (v)
Served with duck fat roast potatoes and a selection of seasonal vegetables for the table.
PUDDINGS
J. Fuller's Black Cab Christmas pudding, brandy butter ice cream
K. Chocolate opera, white chocolate ganache
L. Clementine trifle, brandy crème, toasted almond nuts
M. Fuller's Estate cheeseboard, Hophead aubergine chutney & water biscuits
Please put guests choices (A to M etc) in the Dietary Requirements box on the Book Now tab. Whoever is making the booking can put their own choice in the Honours box where they enter their details.
Book Now