FUELLERS' INSTALLATION DINNER 16 OCTOBER 2019 MANSION HOUSE
Installation Court Dinner
Mansion House, Walbrook, London EC4N 8BH
1830 Reception
1910 Dinner
Book now for the Installation Court Dinner at the Mansion House, official residence of the Lord Mayor of London. It is open to every member of the Fuellers and their guests and will be a brilliant occasion in a striking setting. We will e welcome His Royal Highness the Earl of Wessex KG KCVO as Master, his Deputy Master Professor Averil Macdonald OBE, Mrs Carrie Marsh Senior Warden and Mr Michael Shirley Junior Warden. Principal guest  is Alderman Sir Roger Gifford, the 685 Lord Mayor of London representing the Lord Mayor.
Our guests include representatives of the City of London, our associated industry bodies the Energy Institute and the Oil Industries Club, our military affiliates, Livery masters and partner charities and Platanos Academy. EY sponsor the Fuellers Conversations and magazine and are principal sponsors of the dinner. We look forward to welcoming some of their senior staff and guests.
The reception takes place in the Salon, under the stunning row of crystal chandelier in the magnificent and ornate décor. The Mansion House chandeliers are unmatched in London.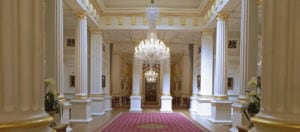 The Salon
We dine in the Egyptian Hall, a grand room which seats 350 people. The banqueting hall should really be known as the Roman Hall, it is based on designs of Roman buildings in Egypt by the classical Roman architect Vitruvius. The marble statues date from 1854-64 and the stained glass from 1868. The paintwork is close to the original stone colour, which, with the gilding, is intended to create a dignified effect appropriate to this great civic interior.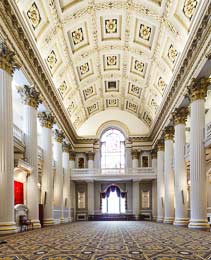 The Egyptian Hall
Dress Code: Black tie, Decorations, Livery Badges
Tickets cost £100 for the reception and three course dinner, with loving cup, post horn gallop and a stirrup cup to see you on your way, all accompanied by a harp duet and the London Banqueting Ensemble quintet. Be part of this highlight in the Fuellers' history and enjoy a memorable event in a stunning location.
In the early stages we will restrict guests to three per member, which will be reviewed as we get a better idea of numbers. If you would like to invite more than three guests please e mail the clerk and additional guests can be put on a standby list. It is anticipated the event will sell out and you are encouraged to book early. The list will be opened to EI and OIC members and our affiliate military units on 26 August. The list will close on 2 October and no bookings can be taken after that date. If you have difficulty with any part of the booking process contact the Clerk.
Numbered 'Pour Memoire' cards will be posted in the w/c 18 September. If you have not received one by 9 October please contact the Clerk. You are asked to bring the PM card and photographic identification to gain entry. Security at the Mansion House will be conducted by people who may not know the membership.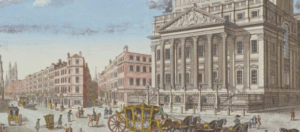 Some Mansion House history:
Until the mid-18th century, Lord Mayors used their own houses or livery halls for their work as head of the City's governmental, judicial and civic functions.
The idea of creating a permanent residence came after the Great Fire of 1666 to provide a house for Lord Mayors who did not have their own livery hall.
But it was almost three quarters of a century later that the architect and Clerk of the City's Work, George Dance the Elder, was chosen to design and build Mansion House. The first stone was laid in 1739 but it was not until 1752 that Lord Mayor Sir Crispin Gascoigne was able to take up residence there. Work was completed in 1758.
Imposingly Palladian in style, it is faced by a grand temple portico at the front approached by flights of steps each side. The entertaining rooms were built on the first and second floors. The first floor had a roofless courtyard (later covered to form the Salon, the entertainment space) and the great Egyptian Hall. The second floor has a ballroom and private apartments of the Lord Mayor and family. The third and fourth floors contain meeting rooms and staff rooms. The cellars have storage space and once held prisoners' cells, reflecting the former use of the Mansion House as the Lord Mayor's Court.
While the Mansion House retains much of its original character, there have been changes. Some 50 years later, two large roof pavilions were found to be unsafe. Dance's son, George Dance the Younger, removed one in 1795. The other was removed in 1846, and at the same time, the main entrance to the house was moved round the side, after various road works narrowed the esplanade up the steps at the front
Book Now