FUELLERS' MID-SUMMER DINNER 20 JUNE 2019 AT INNHOLDERS' HALL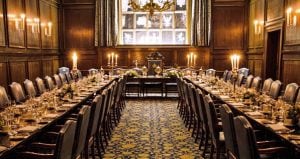 Calling Notice for All Fuellers
Mid Summer Dinner for all Fuellers
Innholders' Hall
30 College Street London EC4R 2RH
1500 Court
1830 Reception
1915 Dinner
Join fellow Fuellers and bring your guests at the Mid Summer Court dinner in Innholders Hall, one of the oldest and finest Livery Halls in the City, a wonderful location for your Summer dinner.
Principal guest is Sumit Bose, editor and co-founder Energy Live News, the leading and award-winning daily energy news site created in 2010 to bring to life the important issues around all kinds of energy. Prior to ELN, Sumit was a presenter and reporter for the BBC for 14 years, presenting his own current affairs series on BBC One, Breakfast News and Radio 5 Live.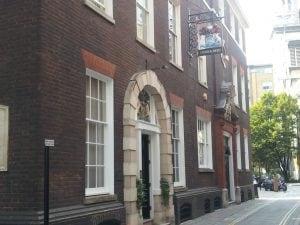 Innholders' Hall was on this site from 1522 until it was destroyed in the great Fire of London. The current hall was built in 1670 with major alterations in 1886 and 1940. The current hall was repaired again and became a listed building in 1952. Follow this link for a history of the Hall. It is only a few minutes walk from Skinners' Hall.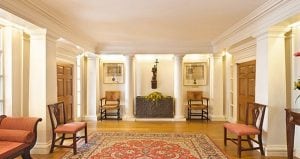 The reception starts at 1830, with sparkling wine and soft drinks. At 1915 we move to the Great Hall to dine. The ticket includes three courses with wines and port, with options for vegetarians and vegans. We should rise shortly after 2200 and there will be a stirrup cup to see you warmly on your way.
We rarely visit this small jewel among the livery halls hall, with a great location and a very well known speaker it promises to be a superb evening.
The Company is keen to grow our membership so don't forget our incentive scheme. If you bring a guest who subsequently joins the Company you can if you wish receive credit of £80 to use towards Company functions in much the same way as Tallage is applied.
Dress Code is Black Tie with decorations.
Tickets cost £98 for this important event in the Fuellers' year, please join us and enjoy a memorable event in a stunning location. We anticipate filling the hall, so please get your bookings in early.
The numbers will be passed to the caterers and the list will close on Wednesday 12 June. No refunds can be made after this date. If you have difficulty with any part of the booking process contact the Clerk.
Book Now