FUELLERS VISIT TO 10 SQUADRON RAF AT BRIZE NORTON 9 OCTOBER 2019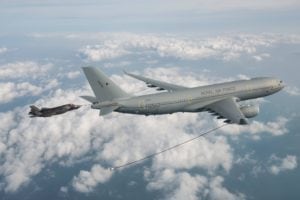 The Fuellers have strong affiliation with RAF 10 Squadron based at Brize Norton. The commanding officer of 10 Squadron, Wing Commander Al Scott, has invited eighteen Fuellers to a private tour of their base & the modern Voyager tanker, on the 9th October 2019. We will be brought up to date on the Air Tankers & their Operations.
The day will start early at Brize Norton, where guests will check in to the departures lounge & dependent on the weather and security considerations, may be able to join one of 10 Squadron's modern Voyager A330 in flight refuelling missions. Lunch with either be taken in flight or at the officers mess.
Approx Timings :-
06.00 Arrive promptly, details to be advised to confirmed attendees nearer the time
06.30 Visit commences
17.00 Visit ends
Note : Start & finish times for this event are subject to change at short notice & our beyond our control.
Fuellers interested should email the visit organizer – stephenklloyd@hotmail.com
by Friday 30th August, together with their full name, mobile telephone number, car registration, make/model & colour.
It is vital that you bring with you on the day your valid in-date UK Passport otherwise you will not be able to take part (no exceptions are possible & non UK passports holders are not permitted for security.)
If you wish to bring a partner they must travel with you, you may signal this – but priority will be given to Fuellers for the eighteen places available. We will indicate not long after 30th August who has a place. Detailed joining instructions will be e-mailed by 4th October.
If you would like to join this visit please e mail the organiser Stephen Lloyd  at stephenklloyd@hotmail.com
Book Now