PHOTOGRAPHS OF THE INSTALLATION CEREMONY AND DINNER 16 OCTOBER 2018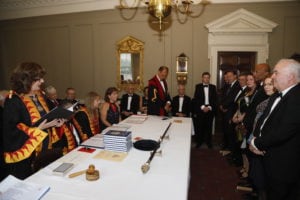 You can purchase downloads of all the photographs taken by the official photographer Mark Dalton at the Installation Ceremony and Dinner on 16 October. There will be a small charge of £10 to cover the cost of the photographer, which enables you to access and download all the photographs you would like to remember a fantastic evening. Mark can also arrange printed photographs if you use his order form.
You are requested to follow 'Book Now' to pay, enter your name, e mail address and phone number on the form and the method of paying.
Once you have done that please follow the link to the website.
Use the download symbol at the top of the page and then 'save as'  to extract photographs. Any difficulty please get in touch with the Clerk. He managed to do it and if he can…….
Book Now