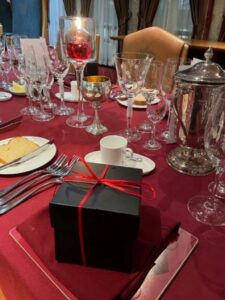 On the evening after the Court met, on Wednesday, 12th January, the Master hosted a Dinner in the Guildhall Club for members of the Court and their consorts. The Guildhall Club is just the right place in which to hold such a dinner; the Guildhall for it reminds us of the links between the Livery Companies and the Guildhall of the City Corporation of today.
A champagne reception, courtesy of the Master, gave Court members and consorts a relaxing opportunity to mingle and to catch up with each other again. We were also joined by Past Masters Barrow and Joshi who, sadly, could not attend the Fuellers' Dinner (s both were engaged that evening with an event arranged by the Chair of the City Corporation's Planning & Transportation Committee).

On the dressed table, a gift from the Master awaited all Consorts, one of whom could not resist the temptation to open the little black box to reveal a Prosecco scented candle! We were served an excellent dinner by Mark Grove of The Cook & the Butler and his team. At the conclusion we were very fortunate that the Master had asked Murray Craig, Clerk of the Chamberlain's Court, to talk about, to reflect on, a day in the life of the Freedoms Office.

Murray, who all of us have met at some point, recollected a series of events and occasions, any of which contribute to what a day can be like in the Court and what makes working there so very special. Murray, as you might expect, took us through this in a most informative but also a very entertaining way; a style he has made his own and which is very engaging. What made this a little more special was that Murray will be retiring as Clerk to the Chamberlain's Court quite soon so we were very lucky that he could sup with us before that day arrives and gave us the opportunity to applaud not just his talk but the work that he and his team do to support the Livery.

All too soon it was time to say our farewells and disappear into the moonlight for our various journeys home.
Thank you Master for your kind hospitality
Peter Nelson, Liveryman