Go Back to Charitable Trust Fund
PLATANOS COLLEGE AWARDS JADA KWEZIRA AND JADINE KWEZIRATHE WORSHIPFUL COMPANY OF FUELLERS' DOROTHY CONOLEY MUSIC SCHOLARSHIP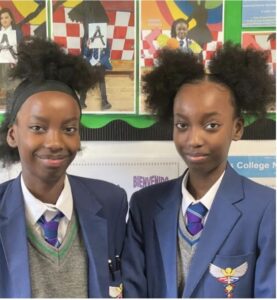 The Fuellers Dorothy Conoley scholarship has been realised due to the generosity of Past Master Paul Cuttill, who was one of the significant donors to the Music Scholarship project with a commitment to continue that for the five years that the first scholarship will last. In agreement with the Platanos Governors, it has been agreed that this year's scholarship will be named The Worshipful Company of Fuellers' Dorothy Conoley Music Scholarship, in memory of Clare's Mother who was passionate about music. Those of you who have seen the Fuellers interview with Paul will know that he is pretty passionate about music himself. Platanos Collage has been a long-standing partner of the Fuellers Charitable Trust and the liaison has grown from strength to strength with Past Master Chloe Andrews-Jones spearheading the links with the school.
Following a rigorous selection process on Monday 14th December 2020, Jada
Kwezira and Jadine Kwezira were awarded the prestigious Music Scholarship,
sponsored by The Worshipful Company of Fuellers. This scholarship is named The Worshipful Company of Fuellers Dorothy Conoley Music Scholarship. It is an extremely competitive scholarship and Platanos College is very proud of both pupils. The Worshipful Company of Fuellers has a long standing partnership with Platanos College and this scholarship is a testament to the strength of the partnership. The scholarship offers both pupils the opportunity to develop their skills technically, academically and artistically. Platanos College believes in each and every pupil and we look forward to showcasing both Jada and Jadine's performances in the future. Ms Taybi, Acting Headteacher said, "Jada and Jadine have made an excellent start to their academic journey at Platanos College, they have an exceptional aptitude for Music and it is with great pleasure that they have been given the opportunity to develop their talents". Ms Maw, mother of both pupils, said, "I am very happy that they have been awarded this scholarship and I am excited to see how they progress".