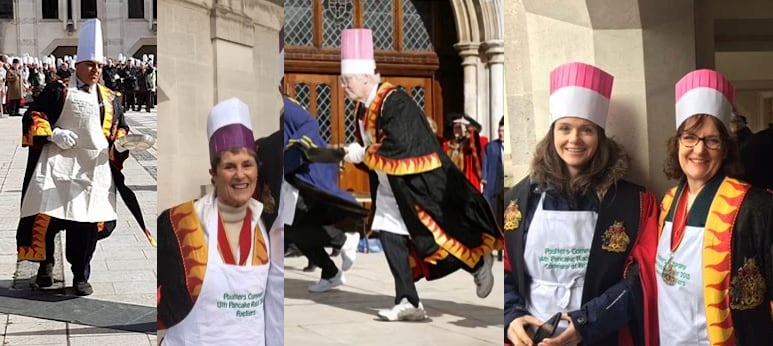 Inter Livery Pancake Races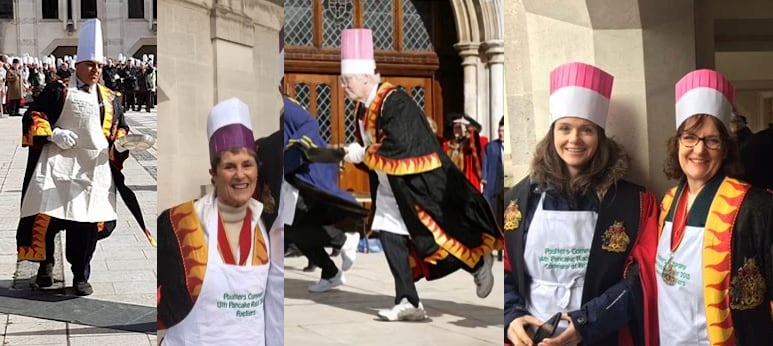 Event Date:
21 February 2023
Event Location:
Guildhall Yard
Shrove Tuesday - 21 February 2023
Guildhall Yard
Racing starts at midday
RUNNERS NEEDED
Whilst there are numerous pancake races held the length and breadth of the country, the Inter-Livery Pancake Race hosted by the Worshipful Company of Poulters is one of the most visually spectacular of them all. Teams, each of four competitors and wearing either fancy dress or full regalia or perhaps a combination thereof, race around the Guildhall Yard tossing their pancakes with the victors fittingly receiving frying pans as well as a trophy.
The 2023 race is on Shrove Tuesday, 21 February and the Fuellers Team needs runners for the Ladies race and also for the Novelty race. Entrants in the novelty race are asked to create a novelty costume which in theory should be in the theme of the current year's Lord Mayor's charity - athough some are in the theme of the livery in question, or even just a bit random / fun. Some examples can be seen by clicking here (it should be obvious which photos are of this category of entrant!). It is hard to run fast in a novelty costume, but there is also an award for the best costume; the winner of the novelty race will usually have a less elaborate costume that allowed for faster running.
There is no charge for our entrants, who receive entrance to the buffet lunch in Guildhall Crypt, plus a commemorative mug and apron to keep. Arrival time is 1115 at Guildhall Yard and our team captain Paul Mott will give some tips on running and tossing.
If you are intrested in taking part then please contact the Fuellers Team Captain Paul Mott.
COME AND SUPPORT THE FUELLERS TEAM
Anyone wishing to spectate can just turn up - entrance is free and no ticket is needed.
If you want to join the team for the buffet lunch (provided by The Clink) and prize giving in Guildhall Crypt then click here to buy tickets.
TIMINGS
1115 Competitors arrive for registration
midday Racing starts
1330 Buffet lunch in Guildhall Crypt - click here to buy tickets
1500 Departure
LOCATION
Guildhall Yard, London EC2V 5AE
see location on map