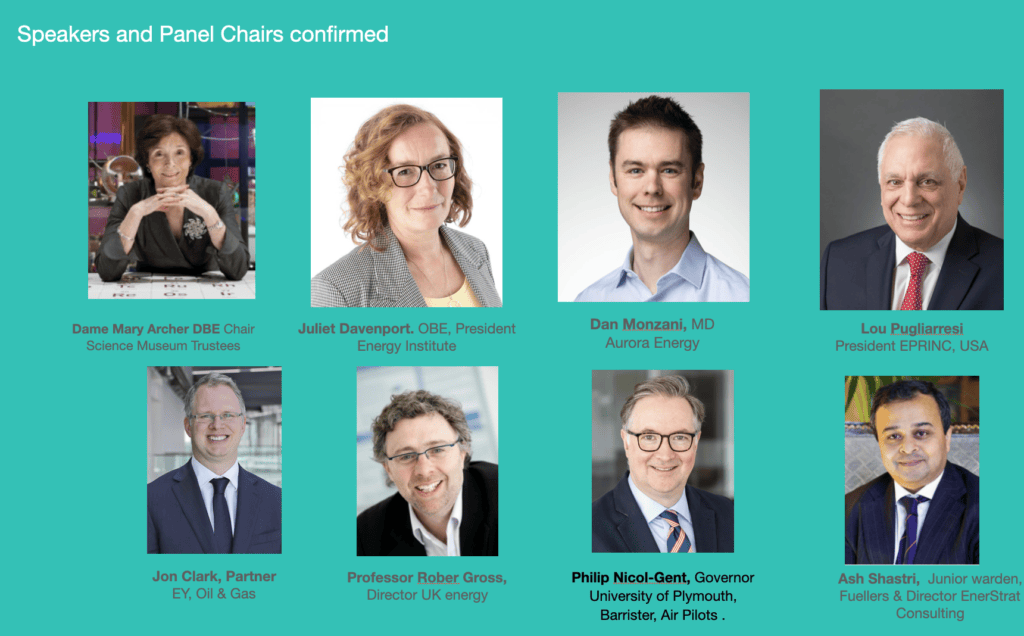 Conference Programme and Timetable
09:30 – Master Fueller, short introduction and Welcome
09.40 - Keynote Speaker 1 – Energy Outlook – A Perspective from the United States - Lucian Pugliaresi, President Energy Policy Research Foundation, USA.
10:05 - Panel 1 Energy Markets Chair: Jon Clark, EY.
Discussion: How has the energy cost crisis affected energy and climate policy? What do we need to change? How can we finance the future of energy:
Panel;
Gareth Ramsay, BP Economist,
Richard Nourse, Schroders Greencoat,
Dr Carole Nakhle Chief, Crystol Energy.
11.05 – Keynote Speaker 2 – Energy Outlook – A British Perspective (including the regulatory/technical challenges we face) – Juliet Davenport, OBE, President Energy Institute
11:30 – Coffee, networking and exhibition
11:50 - Panel 2 Innovation. Chair - Prof. Robert Gross, UK Energy Research Centre,
Discussion; Technology Advances Overview. New technologies and new business models are still needed. In the second panel we draw from the world of engineering and digital sciences to explore the innovations being made, the problems they are solving and the opportunities they are creating.
Panel;
Large and micro hydrogen and ammonia production and usage technologies - Richard Hulf, Founder Hydrogen One.
Nuclear, fusion & small reactors – Prof. Sir Ian Chapman, UK Atomic Energy Authority - Fusion & Paul Spence, Director Strategy & Logistics EDF Energy – Fission.
Carbon Capture and Storage; Jason Frost of Aker Carbon Capture.
13:15 – Networking lunch
14.15. Keynote Speaker 3 - Energy Outlook - Dame Mary Archer DBE, Chair of the Board of the Science Museum.
14:40 – Panel 3 Society and Organisational Change Chair, Philip Nicol-Gent, Independent Governor of the University of Plymouth, Barrister & Guernsey Advocate, Company of Air Pilots .
Discussion; Panel addresses the question of what it is like to manage organisations in the transition to a Net Zero world, with particular emphasis on Livery Companies, and and affiliates whose members are major energy users. How will society need to adapt to track the carbon cost of everything that we do? What skills will they need to embrace?
Panel
• Carl Lomas, Worshipful Company of Carmen.
•Tim Morris, Associated British Ports
• Greg Curtis, RAF, Chair Air Fuels Sustainable Energy Association (AFSEA).
15:40 – Coffee and networking
16:00 – Panel session 4: Panel Discussion. The way forward Chair: Ash Shastri, Junior warden, Fuellers.
Discussion : reflections from within the Fuellers. Fuellers of different career stages and professional background reflect on the changes in the policy-innovation and market context they expect to see in the next 12-24 months, based on the themes emerging from this Conference.
Panel;
• Simon Brewster, CEO at Dolphin N2, Fueller
• Jai Ferguson, Neuroscience & Psychology at King's College London , Sutton Trust Scholar , Fueller , Emerging Technologies Intern at HSBC
• Owain Johnson, Managing Director, Global Head of Research and Product Development at CME Group, Fueller
•Gavin Towers, Head of Energy Solutions, Brook Green Supply, Fueller
17:00 – Keynote 4 – The Big Picture, Dan Monzani, Managing Director for UK and Ireland, Aurora Energy. - In the final session we will invite a leading thinker from the world of energy to surmise key insights and give a personal reflection on the path forwards. 17:25 – Closing thoughts and call to action- Master Fueller
17:30 - Drinks reception
18:05 Short speech followed by Master Fueller
19:30 Close
Registration. https://www.eventbrite.co.uk/e/fuellers-duke-of-edinburgh-future-energy-conference-tickets-629239681827
Sponsor
With grateful thanks to the sponsor of this conference .