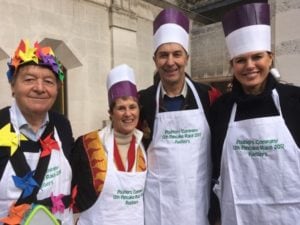 Once again the Fuellers Pancake Team were prepared for friendly battle at the annual Inter Livery Shrove Tuesday Pancake Race on 28 February 2017. It was dry with glimpses of sunshine but quite cold, even so, many spectators came to cheer and enjoy the opportunity to purchase their own freshly made pancakes.
This annual Inter Livery Pancake Race was inaugurated thirteen years ago by the Poulters Company and takes place on the Guildhall Yard.
The Fuellers had an entrant in each of the 4 categories. Master in the Masters Race, Bill Barr in the Liveryman race, Lady entrant, Elena Oderstone and representing us in the Novelty Race, Steve Blackwell. The theme of the novelty race reflects the Lord Mayor's charities which this year focused on music.  Sadly, no prizes again this year for the Fuellers, well it's all about taking part.
After the races we adjourned to the Guildhall Crypt to enjoy a buffet lunch including a very welcome cup of hot soup.
By Master, Mrs. Jan Harrison