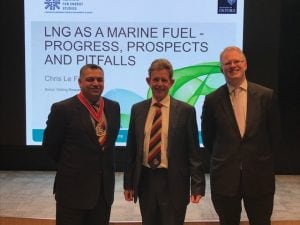 On a positively balmy February late afternoon and evening, Fuellers gathered for the 19th Fuellers Conversation in conjunction with EY eagerly anticipating the prospect of being addressed by Liveryman Chris Le Fevre who was to speak on LNG and specifically LNG as a Marine Fuel. Some 50 people made their way to the new 'Forum' meeting suite on the 9th floor at EY which had been opened only 2 weeks previously – and what a splendid facility it is too.
Chris started by providing a perspective on latest trends around gas and thereby LNG and drew to attention the increasing benefit of monetising gas reserves via LNG (Liquified Natural Gas) where it is uneconomic to shift the product by pipeline. Chris set out the rapid growth in LNG demand and supply including the 'take off' in China, Qatar, Australia and of late US shale gas where terminals built to import have now been converted into export facilities.
In the 1990s LNG represented c5% of global gas but by today this has risen to around c35%. The movement of gas as LNG means that gas has 'escaped the tyranny of the pipeline' and thereby there is market availability of the product irrespective of geography. This in turn has encouraged the emergence of the portfolio player where the trader buys the product and then 'markets' it to just about anywhere in the globe rather than being constrained to sell it from production Point A to consumption Point B.
LNG as a marine fuel has been the subject of much in the way of regulation and in particular IMO MARPOL Annex VI which over time enforces stricter (i.e. lower) limits on sulphur (SOx) content in the fuel. These regulations have been enforced with some rigour and whilst it is perhaps not ideal to try and retro fit LNG engines etc into ships, new build vessels present a strong opportunity to adopt LNG as the fuel source - particularly where the vessel is large and plying a regular, high fuel usage passage of travel.
Nonetheless Chris did draw attention to the fact (pitfall) that LNG, whilst lowering Sox, does not make a particularly high contribution to the lowering of CO2 emissions and as such it is not a simple decision for vessel operators to make. Nonetheless the increasing use of IMO Emission Control Areas (ECAs) means that the focus on SOx remains high and can assist in the cost benefit decision on fuel sourcing for new ships.
When viewed as % of the total worldwide fleet, LNG fuelled ships at 0.3% represents a very small slither but at 30-50 million tonnes consumed per annum it is still a significant part of the gas market.
A very lively discussion followed with plenty of questions and 'conversation'. Some of this centred on whether LNG would in fact most likely play a role as a 'fuel of transition' from Residual Fuel Oil (RFO) and Marine Gas Oil (MGO) to perhaps some variant of hydrogen just like the role it is likely to play in the move from coal fired to renewable power generation. Equally there was interest to understand how LNG might play a role in the developing world as it strives to move away from high carbon content fuel.
Much discussion followed especially given that the Conversation was deliberately timed to coincide with International Petroleum (IP) Week so there were plenty of oil and gas 'hands' in the room.
The Company is as always so very grateful to EY for their continuing support of the Conversations and we were delighted that Liveryman and EY Partner Jon Clark was on hand to make the introductions. Our Master closed the formal part of the event before leading the retiring to a great spread of beverages!
The next Conversation will be held on Monday 13 May at which Fueller Mark Crowther will take as his subject Hydrogen drawing upon his role as Technical Lead at the BEIS Hy4Heat Programme. Hold the date now!
By PM Paul Cuttill