Different types of Energy. Martin Chitty
 On Monday 11th November year 11 pupils attended an in depth talk delivered by Martin Chitty. In this talk, Mr Chitty covered the different types of energy that there are. He spoke to year 11 about the next steps with regards to energy and how leading energy companies are looking for new ways forward in terms of using hydrogen and electric energy. This is because the United Kingdom and other countries are looking to become carbon neutral by 2050.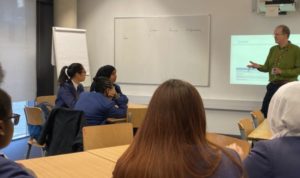 The key message that was delivered centred on the key features of different energy and Mr Chitty addressed the many misconceptions surrounding energy and their appropriate usage for different things.
Mr Chitty reinforced the idea that energy companies needed many different types of skills from their employers. Young people should not be deterred from a profession in the energy industry just because they are not engineers or scientists.
After the talk, a pupil in year 11 made a very profound comment - sometimes it is better to learn about key topics from professionals who are in the industry.