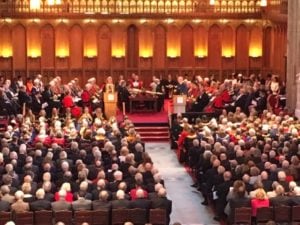 A cool but sunny morning on 2nd October saw several Liverymen from the Fuellers Company convening on the Guildhall for the election of the 692nd Lord Mayor of London. They say "the early bird catches the worm" and so it was that they found themselves in the fourth row from the front! At an event where those not swift enough to find a seat in the main hall have to watch from neighbouring rooms, this was no mean feat!
It began with a church service in St Lawrence Jewry-next-Guildhall, the official church of the City of London Corporation. The ceremony then moved into Guildhall where the election process began to elect Alderman William Russel. It was quite a sight to see the Masters of the Livery Companies sat together in their various robes, bright colours and jewels.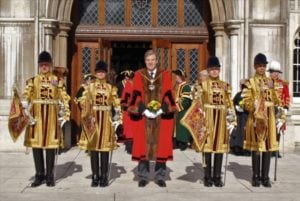 After the election process was complete, there was a Resolution of Thanks to the soon to retire Lord Mayor, the right Honourable Mr Peter Eslin, followed by a Resolution of Thanks to both the Sheriffs, Liz Green and alderman Vincent Keaveny, who had retired this week.
This election also saw a first in the form of a past student of Christ's Hospital addressing those present. As first presentee of the Worshipful Company of Tylers and Bricklayers, the livery company had made a significant contribution to the school fees enabling her to benefit through education. With confidence belying her years, she spoke honestly about her background and the opportunities now afforded to her, highlighting the difference that Livery Companies can make through sponsorship.
Once the election had concluded, the Fuellers met in the Guildhall Club and enjoyed a delicious lunch before departing.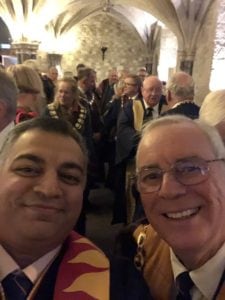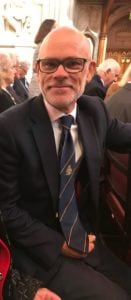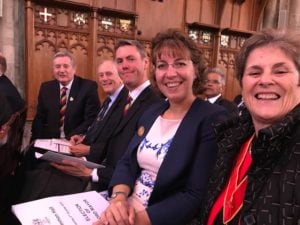 Master Shravan Joshi with Livery Masters, Colin David, Peter Harrison, JWE Michael Shirley, Dave Marsh,
JW Carrie Marsh & IPM Jan Harrison
By Carrie Marsh
Junior Warden