Tuesday 29th September, Michaelmas, saw Common Hall occur once more at Guildhall London, to elect the Lord Mayor for the year ensuing. Home to the City of London Corporation for over 800 years, as you will have come to expect, changes had been made as this year was a little different due to the Coronavirus measures. The Lord Mayor of the City of London, Alderman William Russell, was to be the first holder of that office to have served two 12-month terms since 1885, thanks to the Covid-19 lockdown that has emptied the UK capital's financial district. Having commuted on a very quiet and clean tube, been met by bicycles instead of traffic, the City felt like it was trying to wake up from a long snooze. Guildhall Yard was very quiet, a lonely check-in table with hand san, of course, but there were plenty of well spaced and friendly staff to guide us to the Hall.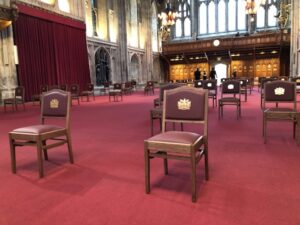 Inside Guildhall it was business as usual, with a few tweaks. Only able to accommodate one representative of each Livery Company, there were approximately 73 companies represented on the day. Despite huge swathes of carpet being visible amongst the socially distanced chairs, the Great Hall was soon buzzing with various Maters, Upper Wardens and others making the most of this rare opportunity to meet, even if it was from the confines of our seats. I was sat near the Master Founder who recounted how their Court of about 20 had recently met for their meeting in (socially distanced) person and then walked down the street to the Church for their annual service, rightly proud that they had not missed getting to their church service in over 130 years. Master Baker was to my right with a very smart Bakers Company crest face mask. They have been doing lots of work including supporting local food banks and had even been having small groups meeting with lunch until the more recent changes to the rules. It seemed that all Companies present, including ourselves, have been rolling their sleeves up to help the fight against C-19 in various ways since March and in doing so, and meeting in this way at Guildhall, had somehow brought our various Companies even closer together. Soon silence descended as Common Hall got underway.
The Sceptre and Sword of office were brought in first, through the hall, to rest on the table in front of proceedings. The Court of Aldermen then took their places entering from the front of the hall onto the raised platform, alongside the Town Cryer and Lord Mayors Chaplain who opened proceedings with a prayer. There were no colourful processions this year, bereft of gowns and other regalia which was rather sad to see. At the same time, one could not help but feel we were a little piece of history, determined that 'business as usual' must prevail somehow. After a short explanation of how events would be more concise this year, and the ever-important imparting of the C-19 protocols, the Town Cryer continued. We were called to vote for the ensuing Lord Mayor.
Finding ourselves in this new situation of no program on our chairs and unable to swap quiet advice with the person in the next seat, we somehow nearly, accidentally managed to put a spanner in the works with some unintended voting on our part, but this was quickly picked up and explained how proceedings were to work for this Common Hall Election, for those missing the all important written instructions issued electronically this year via their Clerk. The moment was lifted by the Sheriffs Michael Mainelli and Christopher Hayward looking with mock despair at the Livery present and emulating a game of 'Rock, Paper, Scissors' as they approached the table to confirm the result.
But fear not, all was in hand and Alderman William Russell was confirmed as the Lord Mayor of London for the ensuing year. He said a few words to accept the role and to thank those present and of course the Lady Mayoress for her continued support into the second year. Shortly after, Common Hall was concluded. We duly sat in our seats while the Hall was cleared. As we left by a different exit, all keeping our distance and in file, we were met by a gloriously sunny day in the City. Several little groups went to find their lunch, in groups of six of course, and in no time, the streets were empty again.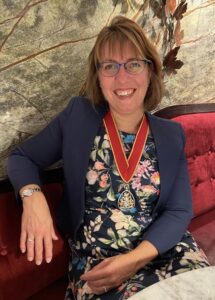 by Carrie Marsh
Master Elect