The New Year Court meeting was held within the confines of the Central Criminal Court,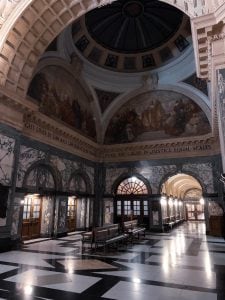 better known as the Old Bailey. The Master, Wardens and Court Assistants were guests of Sheriff Liz Green and her husband Peter. The sheriffs are resident with the senior judges at the Old Bailey.
After a productive Court meeting, court members were joined by their partners for a tour of the building. Liz and Peter were such excellent hosts that we would never have guessed that we were honoured to be the first group that they had guided around this fascinating building.
The Central Criminal Court is better known as the Old Bailey, a name taken from the street on which it stands, that follows the line of London's fortified wall – the bailey. Part of the original wall can be seen in the basement. The building stands on the site of the medieval Newgate gaol. Although much of the building looks ancient, it was designed by E. W. Mountford, built in 1902 and officially opened by Edward VII in 1907.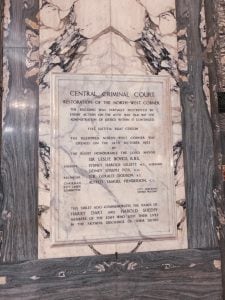 Originally the sessions house of the Lord Mayor and Sheriffs of the City of London and of Middlesex, improvement of the court and the adjacent Newgate Prison was made possible by a gift from Dick Whittington. That building was destroyed in the Great Fire of London in 1666 and rebuilt in 1674. The new court was open to the weather to prevent the spread of disease. The witness box in Court One still has a roof, harking back to the time when witnesses needed to be protected from the rain.
In 1734 the court was enclosed to reduce the influence of spectators, but this led to outbreaks of typhus. In 1750 60 people died, including the Lord Mayor and two judges. The court was rebuilt again in 1774 and a second courtroom was added in 1824. It became the central criminal court for England and Wales in 1856. Despite this, the building is still owned by the Corporation of the City of London.
The building was badly damaged in the Second World War. It was restored in the 1950s and the dome of the Great Hall is decorated with a painting commemorating the Blitz. In 1973 a car bomb exploded in the street outside the courts. A shard of glass from the explosion can still be seen deeply embedded in the stonework at the top of the main stairs.
Following the tour, the group had dinner in the Judges' dining room. The Principal Guest was His Excellency Senen Mangilile, the Consul General of the Embassy of the Philippines. He gave a most interesting speech about the historical relationship between the Philippines and the United Kingdom.
By David Lewis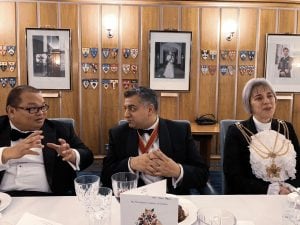 His Excellency Senen Mangilile, Master Shravan Joshi with host Sheriff Liz Green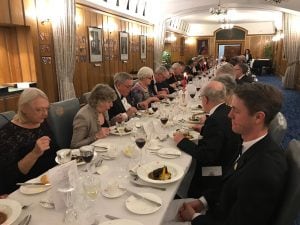 Court Members and their guests, courtesy of the Master, enjoying their dinner.