New Freeman Ian Arnold writes:
Listen to Radio Four for even a short while and the subject of energy will be discussed at some point. Whether it's emerging renewable technologies, the UK's overall energy mix, our gas supply sources or simply the price of fuel for our cars, the subject of energy remains front-of-mind. It is safe to say therefore, that whether you've been in the industry for decades or, like me, became more aware through the activities of an engineering client or you're simply a person who wishes to be better informed, the focus of the Company will have great relevance for you.
With my longstanding friend, Court Assistant Michael Shirley, I had attended a couple of Fuellers' events so I felt genuinely honoured when he popped the question over lunch. To be clear, this was not a proposal of marriage, which our wives would have doubtless vetoed but instead an invitation to apply to become a Freeman of the Worshipful of Fuellers. After the initial feeling of having had a great honour bestowed upon me, I was brought back down to earth with the news that I would first receive a call from the current Master, Chloë Andrews-Jones.
I need not have been so concerned. Chloë was very warm and friendly, asked me about myself, told me about the work of the Company and explained the process of becoming a Freeman. I was also told to expect a call from Senior Warden Shravan Joshi. Shravan's call was equally welcoming, informative and relaxed. I assume I must have said something right because I subsequently learned that I was to be admitted at the Court meeting just before the Mid-Summer Court Dinner to be held at Tallow Chandlers' Hall, June 2018.
Rebuilt after the Great Fire, the current Tallow Chandlers' Hall was completed in 1672 and apart from some alterations over the years, remains pretty much original having survived the war without major damage. So it was in a very historic and impressive wood panelled court room, surrounded by Court Assistants looking down from their raised platforms on all three sides, that Martin, Richard and myself received our individual certificates from the Master and became Freemen of the Worshipful Company of Fuellers during a ceremony lasting about half an hour.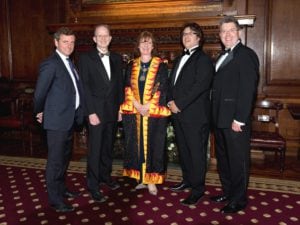 Ian is pictured here, on the right, together with his fellow new Freemen (L-R) Richard O'Brien, Martin Chitty, the Master, and new Liveryman Alan Rance
The formalities over, a receiving line of the most senior Court members was an opportunity to be introduced following which, I entered a beautiful, sun-lit courtyard to enjoy a few glasses before the Mid-Summer Dinner commenced. It was a great opportunity to meet other members of the Livery and their partners. On being summoned to dine, it was a short walk up an elegant staircase to arrive at a large and very impressive dining hall complete with paintings of the-great-and-the-good high up on the panelled walls. Filling the centre of the room was a very substantial u-shaped table - immaculately laid out for around eighty members and guests.
The conversation, food and wine were excellent throughout the meal and, from my chair, I had an excellent view of our guest speaker, Professor Alison Smith from the Department of Plant Sciences, University of Cambridge. She explained how she and her team are using algae and other microbes to make a multitude of valuable chemicals ranging from vitamins through to biodiesel and even harnessing their power to produce biological solar panels. I had no idea that algae could be such a valuable source of sustainable energy. I would never look at our garden pond in the same way again.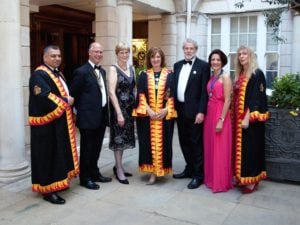 The Master and her Consort, the Wardens, Principal Guest Professor Alison Smith, Master Engineer Professor David Johnson and Master Public Relations Practioner Katherine Sykes.
The Worshipful Company of Fuellers clearly operates on a multitude of levels including fellowship and charitable work. I'm only just at the beginning of my journey within the Company but already I have been asked to serve on one of their committees. What I can say with certainty however, is that I doubt you could find a more friendly Company to join.
Photographs courtesy of Michael O'Sullivan. https://www.michaelosullivanphotography.co.uk/