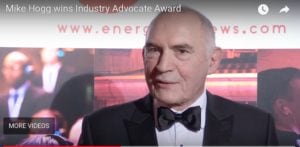 This inaugural awards ceremony was hosted at the London Film Museum on 7th December. With over 250 attendees, gathering around the Bond in Motion exhibition, it certainly broke the cycle of stale award ceremonies and proved that the Energy industry certainly has many a personality within it!
Three Fuellers were nominated for awards:
Energy personality of the year award nominees were:
Mr. Basil Scarsella, CEO, UK Power Networks
Prof Averil Macdonald OBE, Chair, UKOOG
Industry advocate award nominee was:
Mr. Mike Hogg, Non-Exec Director, ON5
Towering over some tough competition, Mike Hogg was awarded the Industry advocate award and gave an interview, where he spoke about the need for passion in our industry: Click here to see his interview
Congratulations to Mike, Basil and Averil.