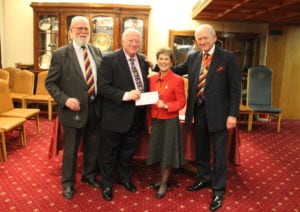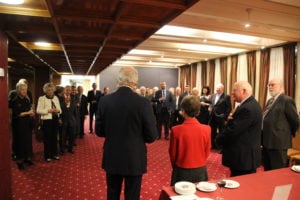 The Guildhall Club was the perfect venue, as a number of Fuellers and Beadles of other Companies gathered, for the farewell reception of Mr. Colin Smith MEB BEM, the Fuellers' Beadle from 2008 till 2016.
Colin's years of service were reflected upon by Past Mast John Bainbridge, reminding us of Colin's wit and charm, as he carried out his duties with great professionalism.
Sir Antony Reardon Smith, the Fuellers' Clerk through most of Colin's years of service, remembered the close working relationship they enjoyed.
Finally, our Master thanked Colin and wished him well for the future, on behalf of the whole company.
Few people are recognised with two national awards and we were fortunate to have a Beadle with such a reputation. His firm but friendly leadership, formed in the Royal Air Force and honed in the Tower of London,  was deeply woven into the Fuellers' fabric
A token of appreciation was presented to Colin, for his time with the Fuellers, which was gratefully received.