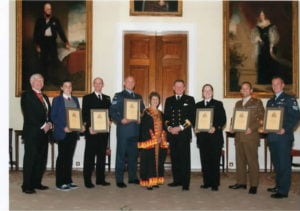 The Fuellers were on parade on July 24th to welcome our military and educational affiliates. We started our day by attending Thanksgiving in St Olave church close to the Tower of London and final resting place of Samuel Pepys. The service was taken by our Hon Chaplain Rev Dr Peter Mullen whose sermon's reference to theological analysis of the words used in the Master's lesson was thought provoking and interesting as always. The choir of St Olave led us through the hymns and performed 2 pieces that to the congregation seemed very difficult and complex but sung with ease and competence accompanied by their organist, so good that his concluding piece received a round of applause from the congregation.
Following the service, we processed to Trinity House past the inevitable building site a regular feature of our City and a sign that our economy is still thriving and attracting investment. Encouraging and uplifting indeed to see despite the dust and yellow jackets all around.
Trinity House is a most welcoming venue for our lunch and awards ceremony. The building is a wonderful structure with a long and varied history having been destroyed in the Great Fire and badly damaged in the 2nd World War only to be rebuilt and stand as a testament to the forefathers of our seafarers who are celebrated on every wall. It is hard to imagine a more fitting place to celebrate the achievements of our affiliate award winners.
Our guests were warmly welcomed by Senior Warden Chloe Andrews-Jones who highlighted our principle guest's career and also acknowledged Masters from other companies and the Deputy Head from Platanos College.
Lunch complete it was then onto the prize giving. Our principle guest Captain Ian McNaught MNM accompanied by our Master Janet Harrison and Chairman of our Charitable Trust, Stuart Goldsmith presented the prizes. Each prize winner had their citations read by our Junior Warden Shravan Joshi and then proceeded to collect their award.
Congratulations to the following on achieving their Fuellers award:
Flight Sergeant Paul Riley – 10 Squadron Royal Air Force
Sergeant Mathew Stewart – Tactical Supply Wing Royal Air Force
Leading Hand Deck Faith Phillips – Wave Ruler Royal Fleet Auxiliary
Warrant Officer One Paul Franks – Defence Strategic Fuels Authority Royal Air Force
Warrant Officer One Steve Hole – Royal Naval Air Engineering and Survival Equipment School HMS Sultan
Staff Sergeant Samuel Korankye – 152 (North Irish) Regiment Royal Logistic Corps
Jasmine Scott – Platanos College
Following the prize giving Liveryman Anthony Shillingford presented the Commanding Officer of 152 Northern Irish Regiment RLC with an impressive picture which shows every one of the Ulster Victoria Cross recipients. Anthony explained this had been in his family for many years; it featured his own cousin, Private James Crichton, who won the VC posthumously for his actions on 30th September 1918 near Crevecoer France whilst fighting with 2nd Battalion Auckland Infantry Regiment.  Anthony felt that it would be entirely right that the picture of these Ulster VC heroes should return to Northern Ireland and where better to give them a home than Palace Barracks, Belfast the HQ for 152 Regiment.
Following the prize giving our Principle Guest proposed a toast to the Worshipful Company of Fuellers but before he did give an interesting speech including some anecdotes of his time as Captain of the QE2. It would be advisable if you hear him speak in the future, to brace yourself for the story about him doing an inspection with a new steward and two senior and experienced stewards. A very funny story which was vividly believable.
Lunch was concluded by our Master Mrs Janet Harrison who thanked our speakers and once again congratulated all the prize winners. She also thanked Trinity House and all their staff for their excellent service and the wonderful lunch and wines served.
As the Fuellers our affiliates and guests rose to clap the Master out they were invited to partake in a stirrup cup and also a tour of Trinity House was available for those who wanted to learn more about this wonderful building and long history.
Everyone agreed that this was once again a very successful and enjoyable event. It is always good to meet our military affiliates and to show our appreciation for what they do for our country. Equally we enjoy our close association with Platanos College and enjoyed meeting their prize winner, her mother and the Deputy Head.
Finally, many thanks to our Learned Clerk for all his organisation and planning ensuring the day went off without a hitch.
Dennis Woods
Past Master
Military Affiliates Liaison