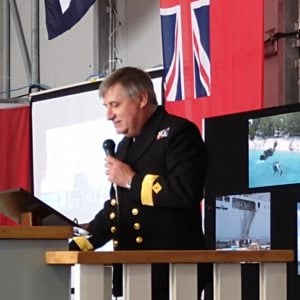 A party of Fuellers joined a larger Livery visits-day to enjoy a trip to RFA Lyme Bay, 11 September, when she was moored off Greenwich Pier. Hosted by Commodore Duncan Lamb we were informed of the status of the RFA fleet and enjoyed a fascinating tour including seeing a coastguard helicopter close up.
RFA Lyme Bay is a Bay-class landing ship dock of the Royal Fleet Auxiliary capable of delivering a significant fighting force anywhere in the world. She is designed to be part of an amphibious task group, capable of carrying, and landing, a large number of troops, typically Royal Marines, in boatsvia the dock or by helicopter from the flight deck.  She is unique in having a specially retrofitted operations room that the other two Bay class vessels lack.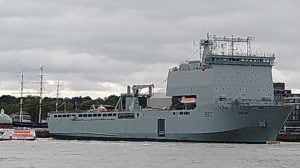 The 177 metre vessel's built-in versatility lends itself to a wide range of other tasks, including disaster relief. The ship has the ability to pump water ballast around enabling it to dip, or skew, its rear end sideways. This allows various amphibious vehicles in its large central floating dock to be deployed to land for use in, for example, earthquake relief.
The Fuellers' specific affiliation is with RFA Wave Knight and Wave Ruler. However we learnt that Wave Ruler is still in mothballs at Cammel Laird shipyard, with no current plans to bring her out of reserve. The visit concluded with a hearty curry for lunch!
By Liveryman Paul Mott