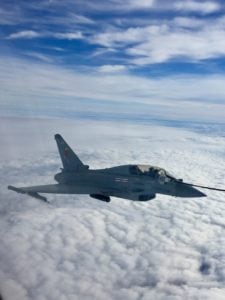 The Fuellers' annual visit to RAF Voyager Tanker Squadron 10 took place on Tuesday 10th October, at Brize Norton air base in Oxfordshire. The aim was to highlight the work undertaken by 10 Squadron using their new Airbus A330 based multi role Voyager Tankers, both in air to air refuelling of planes, Troop & Equipment transportation & VIP transportation.
This year's event was again hosted by Wing Commander Simon Blackwell who invited 18 Fuellers to a private tour of the Tanker Force. Liveryman Stephen Lloyd kindly agreed to arrange the day & worked with Squadron Leader Craig Gibson the Squadron second in command.
First stop was 10 Squadron's newly refurbished Hanger/Office block which they share with 101 Squadron who also joint man the Voyager Tankers.
After tea coffee & biscuits it was off to the lecture room for a very informative & detailed update on 10 Squadron & their new Voyager Tankers by Sqn Ldr Gibson. The Voyagers replaced the Tristar's operated by 216 Squadron & VC10's operated by 10 & 101 Squadrons. The new multi role Airbus A330 is always task ready and flexible as highlighted by the recent Caribbean hurricanes – Voyagers carrying medical & support staff together with supplies & were able started to depart from within 24 hours.
There are 14 Voyagers Tankers set up under a PFI 28 year contract; 9 Voyagers are solely for Military use, and the other 5 are sub-let to commercial airlines like Thomas Cook and can be quickly brought into service should the need arise.  Of the military planes one has no under wing pods for refueling and carries a civil registration & has no RAF roundels, this is used for the Falkland Islands air bridge (bi weekly trips). Of the eight other Voyagers, three are KC2s (fitted with 2 Cobham 905 under wing refueling pods) used to refuel fast jets. Five are KC3s, fitted with 2 wing pods and a Fuselage centre line pod enabling large aircraft to also be refueled. Each wing pod is able to deliver 1200kg fuel per minute and the centre line pod can deliver 1800kg per minute.  Voyager Tankers have a total fuel capacity of 109 tons fuel. As they have very efficient engines which only burn 6 tons an hour, they have great endurance. This is evident as now only one tanker is need to provide both morning & afternoon refueling cover in the North Sea whereas with tristar, two flights were required.  Today just over 500 staff are required in just 2 Squadrons.
Following the lecture the we boarded flight ZZ336, a specially converted Voyager designed to carry VIPs like the Prime Minister and Prince Charles on prestigious oversea visits. We were on a four hour flight with a bird's eye view of the fast jets coming alongside to refuel, and a little time each on the flight deck.
Upon landing the Master took the opportunity to Thank Sqn Ldr Gibson & his Squadron for a truly informative & spectacular day, he was presented with a Fueller's Plaque and a £540 donation to the Squadron's charity  The RAF Benevolent Fund who support both serving and ex-serving RAF personnel and their families.                                                                                                                                                                                                                       Stephen K Lloyd 11/10/17