The Worshipful Company of Fuellers held its New Year Dinner at the Remo Bar; thanks again to Iain Beveridge who organised the online table event.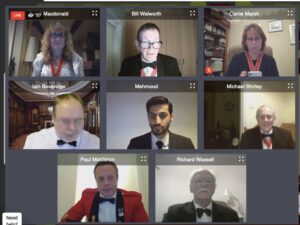 After an initial chat at our individual tables, the Company, in black tie as the occasion demands, was summoned at 6.00p.m by Deputy Master Averil MacDonald to witness the Freedom of Redemption enrolment of the following new Members of the Company:
Patrick Cole
Robert Wilkins
Frances Morris- Jones
Wesley Thomson
Richard Walsh
Paul Middleton
Mehmood Hassan
Richard Wassell
Dinner progressed in the, now usual online way, as Fuellers munched through their home cooked meal and helped themselves to the occasional glass of something suitable. We were then called to toast the Queen, Royal Family, City of London and Guests to which our principal guest, Dr Peter Morshuis responded.
Dr Peter Morshuis is a visiting Professor at the University of Bologna and an Associate Professor in High Voltage Engineering at Delft University of Technology and has his own company focusing on training/education. His theme was the high energy consumption of online communications, which currently represents 3% of Dutch energy consumption and is predicted to rise to one half by 2030. Similar share will probably apply in the UK. The electricity grid there is not ready to accommodate this demand, in addition to the extra load of electric vehicles and green energy in general that will be imposed on the system .
The Deputy Master thanked him for his very interesting address, before Fuellers then adjoined to individual tables to catch up socially with friends. Carriages, which in this case, meant the unplugging of zoom, arrived at 9.00 p.m.