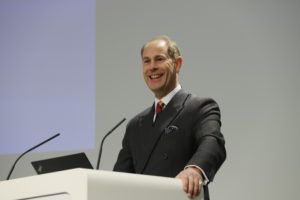 FUELLERS FUTURE ENERGY CONFERENCE
20th November saw the Inaugural Future Energy Conference held at the Royal Society. Around 180 delegates, speakers and Fuellers' charity partners attended the conference and the associated exhibition. The exhibition showcased Fuellers' work in education and the entrants to our competition for new energy ideas.  The conference was notable for bringing together very experienced energy professionals with those just setting out on their journey in energy.
The conference was opened by the Master Fueller, HRH the Earl of Wessex, who talked of the need for an energy transition that would be both ambitious and practicable. Delegates then discussed the priorities for future energy with a knowledgeable and high profile panel of speakers; Fuellers Jon Clark and Basil Scarsella, Louise Kingham of the Energy Institute, Molly Webb from Tempus Energy and Tani Nath of the Energy Systems Catapult, all ably chaired by Paul Cuttill.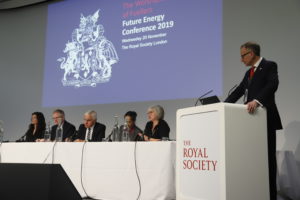 After a short break and an opportunity to visit the exhibition, Averil Macdonald chaired the very interesting panel session on alternatives to fossil Fuels in heat and transport. Fueller Mark Crowther gave insights into the production of Hydrogen and how it could be used in domestic heating, and David Gill of Northern gas Networks described the pilot project in Leeds. Hugo Spowers, MD & Chief Engineer of car manufacturer, Riversimple Movement Ltd, talked about designing an electric-hydrogen hybrid car, and Nick Roper from DNV GL discussed the latest trends in shipping.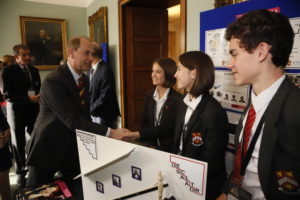 All of this was quickly followed by the competition judged by Dame Mary Archer, Energy Institute President Steve Holliday, BEIS Chief Scientist John Loughhead, and financial specialist Andrew Buglass. Four teams of young professionals and academics presented their ideas for future energy. The winning team was Cheesecake Energy https://www.cheesecakeenergy.com/ with their proposal for long term energy storage.
We were very fortunate to have as our speaker for the afternoon Spencer Dale, the Chief Economist of BP, introduced by Edward Libbey. Spencer gave us an insight into the scenarios for future energy demand and production, together with some enlightening facts about what has been happening over the last few decades.
At the end of the conference delegates travelled to St James's Palace for additional networking at a champagne reception hosted by the Master Fueller.
Photographs taken at the conference can be viewed at https://markdalton.zenfolio.com/201119