The Fuellers' annual visit to RAF Voyager Tanker Squadron 10 was originally due to take place 9 October, but was cancelled for operational reasons – no bad thing, as on that day, a van left behind by the "James Bond" film crew displaying an out of date pass caused evacuation of the base! Shravan had planned to join us that date, however, with the date changing and our Installation passing, we were pleased to welcome our Deputy Master, Averil MacDonald.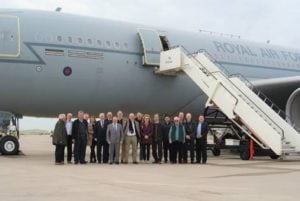 The aim of the visit was to highlight the work undertaken by 10 Squadron using Airbus A330 based multi role Voyager Tankers, both in air-to-air refuelling of planes, troop & equipment transportation & VIP transportation.  
Some of us had assumed that the conversion of the A330 airframe to tanker role must have entailed fitment of a large tank in the hold of the plane, but on a tour of the outside of plane. it became clear that this was not the case; the A330 body had larger A340 wings fitted, which have a large fuel capacity per wing, giving sufficient capacity - with no extra tank being needed.  Each A340 wing features two engine mounting pods per wing for refuelling fighters; only one engine per wing is required, so that the outermost engine mount point can be used to fit the refuelling pod.  There is, on some of the fleet of voyagers, an additional refuelling line from the fuselage centre line pod, used for refuelling large planes.  
The 14 Voyager Tankers set up under a PFI long term contract, are more than the RAF need in 'normal' times. Therefore, 9 are solely for Military use and the other 5 are sub-let to commercial airlines that can be quickly brought into military service should the need arise.  Of the military planes, one has no under-wing pods for refuelling, and has no RAF roundels - this is used for the Falkland Islands supply "air bridge" (bi-weekly trips). Of the eight other Voyagers, three are KC2s (fitted with 2 Cobham 905 under wing refuelling pods).  Five, including the one the Fuellers travelled on, are KC3s, fitted with 2 wing pods and a fuselage centre line pod enabling large aircraft to also be refuelled. Each wing pod is able to deliver 1200kg fuel per minute and the centre line pod can deliver 1800kg per minute. Voyager Tankers have a total capacity of 109 tons of fuel.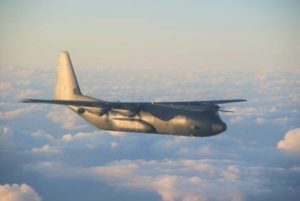 The Voyagers are able to carry a full complement of troops; removal of some seats allows stretchers to be carried if necessary.  One is a VIP variant that most days is still used for air-to-air refuelling and is available for use by the Prime Minister when necessary. Their extraordinarily long range was useful on an assistance mission late in 2017 to the Falklands, to carry British submarine rescue specialists to assist Argentina in the tragic matter of her missing submarine and her 44 crew.  
Taking off and heading for the Atlantic, the Fuellers were delighted to find that, as well as refuelling 12 Eurofighters from the wing hoses, we also refuelled a Hercules from 47 Sqn on the centre line, thus enabling us to see all 3 of the KC3's hoses in use.  
The RAF exhibited great patience in answering all our questions, and Averil completed the day by thanking 10 Squadron on behalf of the 18 Fuellers, presenting a cheque to the RAF's charity.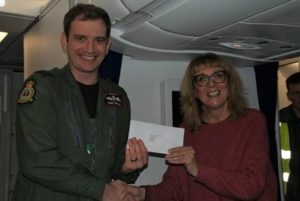 By Liveryman, Paul Mott