The Fuellers held its Golf Day on 3rd September at the magnificent Temple Golf Club, Hurley.   This new location for the Fuellers annual golf day attracted the largest turn ever, with 12 teams competing.
In bright sunlight, which lasted all day, the 12 teams of three players each, set of early to play the 18-hole, 6,210 yards course taking about four hours to complete. Fuellers competed alongside teams from the Horners, Carmen Companies and the Oil Industries Club for the individual and team prizes. The day ended with refreshments on the balcony, prizes and an excellent three-course lunch in the clubhouse, all overlooking the course.
Prizes were awarded by the Master, Chloe Andrews-Jones; ably assisted by the organiser of the event, Liveryman Michael Green and the official scorer, Past Master Dennis Woods. The Fuellers made a good showing by winning the runners-up and two of the individual player prizes, while guest's teams and the Oil Industries Club won best team and best overall player.  One player said afterwards "It was certainly the best Fuellers' golf day I've attended on a really interesting course", and others made similar comments.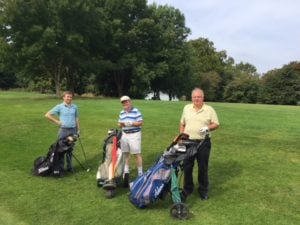 Fuellers PM John Ingham and Steve Blackwell joined by John's son David, ready to tee off at the 1st