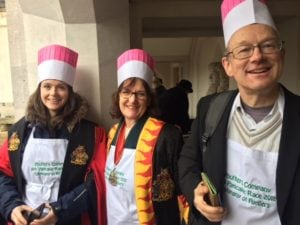 It was a cold, wet Shrove Tuesday when old inter-livery rivalries were re-ignited at the 2018 Livery Pancake Race. With the Guildhall Yard as slippery as the Pyeong Chang skating rink, the wise decision was made not to run races, but rather to count how many successful tosses* of pancakes could be made under strictly timed conditions. In such circumstances and, contrary to public opinion, it appears that neither the International Bankers nor the Tax Advisors are the biggest tossers in the City of London; alas, I'm sorry to say that neither are the Fuellers!
The team was ably led by Master Chloe Andrews-Jones, who was keen to emphasise inclusion and participation, who lifted the spirits of all team members by enthusiastically cheering all on. Liveryman Paul Mott managed the highest score of the Fuellers (a magnificent 66 tosses in a minute) - a natural tosser if ever there was one - with an unusual technique of skipping whilst tossing, which is not something you see every day! Bill Barr was superb as our novelty tosser (an official term) in a costume representing the Samaritans - one of the Lord Mayor's charities. I was delighted to be included in the team and, despite losing a couple of digits to hypothermia, thoroughly enjoyed the event. Thanks to the Doctors and the Fishmongers, emergency remedial work was undertaken and I am now the proud owner of two new fish fingers*.
Mary Simmons
*a rather fetching official pancake race apron is available to the Fueller spotting all the groan inducing "tossing" references in this report.
**this may not be entirely true.