SPONSORED BY SBZ CORPORATION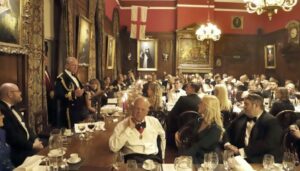 Excitement and perhaps a little apprehension as Fuellers and their guests dressed in their finery, finally managed to attend in person, the Fuellers Reunion and Affiliates Prizegiving Dinner on Monday 26 July 2021. After many delays and cancelled Fuellers events due to the  COVID pandemic causing several lockdowns from March 2020, we gathered at the historical Honourable Artillery Company, Armoury House. This was also the first opportunity for many of us to meet our new Fuellers' Clerk in person, Alex Maclean Bather and not just on Zoom!
We commenced with a special admissions Ceremonial Court meeting. The Deputy Master, Prof Averil Macdonald OBE,  Senior Warden, Carrie Marsh and Junior Warden, Michael Shirley all resplendent in their gowns accompanied by their Consorts, Alun, Dave and Jill entered the room and took their places. Our gowned Clerk led those awaiting to be admitted and welcomed to the Company. The Deputy Master conducted the ceremony for nine new Freeman.
Patrick Benham-Crosswell, Yeoman Stuart Casey, Reg Disley, Jai Ferguson, Robin Lloyd, David Loveday, Stephanie Palmer, Andrew Willis and David Wilson.
Followed by enrobing two new Liverymen Geliya Chukmarova and George Paton and personally welcome Freeman Richard Wassell.
Finally, the Deputy Master invited two new Honorary Liveryman to be enrobed. Alderman and Sheriff-Elect, Alison Gowman and our Fuellers Past Clerk, Commodore William Walworth CBE.
The Court members and guests in the room heartily applauded and congratulated the new Freeman and Liveryman.
Then on to the drink's reception, the room was full with much chatter and laughter as old friends were reunited and new friends made. A very warm and enjoyable atmosphere.
Dinner was announced and we entered the magnificent Long Room with tables beautifully decorated for close to 120 hungry guests while listening to relaxing harp music played by Katy Salomon.
Our Deputy Master, Senior Warden, and Junior Warden, accompanied by their consorts and principle guests were traditionally received as they entered and took their seats.
A very poignant grace was said by our Honorary Chaplain, Rev. Nick Mottershead FCA, with comforting and uplifting words for our future. We then commenced our delicious three course meal.
Soon we were standing for the loyal toasts to the Queen and the Royal Family listening to the National Anthem played by the harpist and a toast for the Lord Mayor and the City of London Corporation and Sheriffs.
The Affiliates prizegiving then commenced. The new Chairman of the Fuellers Charitable Trust Fund (FCTF), Past Master, Chloë Andrews-Jones, invited each of the six Affiliate Prize Winners from 2020 and 2021 who were present, to stand while she congratulated them as she read a précised version of their Citations; after which we showed our great appreciation acknowledging all their admirable achievements, particularly during this pandemic period. Chloë advised us to look on the Fuellers website for the full version of each Citation. Each prize winner receives a certificate and a small payment from the FCTF for their chosen charity.
The prize winners were:
RFA Wave Knight & RFA Wave Ruler
2020 - CPO (Steward) Anthony Rennie
2021 – Chief Engineering Officer Captain (E) Nigel Sim
HMS Sultan
2020 – Warrant Officer Andrew Swash RN
2021 – Mr Maurice Oliver
152 (North Irish) Regiment RLC
2020 – Staff Sergeant David Johnson
2021 – Warrant Officer (Class 2) Les McClements
10 Squadron RAF
2020 – Senior Aircraftwoman Rachel Moran
2021 – Sergeant Rob Phair
RAF TACTICAL SUPPLY WING
2020 – Senior Aircraftsman (Technician) Lorely King
2021 – Acting Sergeant Scott Exelby
DEFENCE STRATEGIC FUELS AUTHORITY
2020 – Squadron Leader Richard Newton
2021 – Flight Lieutenant Greg Curtis
Following on from the prizegiving. The Deputy Master asked our new Freemen and Liverymen to stand so we could all welcome them.
The evening progressed with Carrie our Senior Warden and excellent Fuellers 'blogger', welcome our guests in her usual convivial style, with her opening line "it's a delight to welcome you all on one screen at the same time….oops I muted myself"!
She added her congratulations to the Prize winners and also welcomed the Senior representatives of each Unit. Our principal guests included, the Master Carmen who had been 'pinged' and regrettably couldn't join us, so Past Master Carmen, Col. Simon Bennett TD VR kindly stood in for him.
During our Royal Master's year, the FCTF have been fundraising for several educational charities and two were represented at our dinner. From the Smallpiece Trust, CEO Dr Kevin Stenson and from Generating Genius, Dr Tony Sewell CBE, Chair of the Trustees. Carrie told us more about all the remarkable educational work these charities carryout. They encourage students, some from disadvantaged backgrounds, to focus on studying STEM subjects leading them into careers in the energy and engineering sector. She also explained about the other educational charities we are supporting being City University, Teen Tech and Platanos College.
Carrie finished her speech with a welcome to our Principal Guest, Commodore Robert Bellfield CBE, Commander of Naval Regional Command Eastern England, a role that saw him engage with civil society, industry, business, veterans, the maritime sector and UK Military.
Carrie finished her speech by asking members of the Fuellers to stand and raise a glass to toast the guests.
After receiving a tremendous applause. It was our time to hear from our principal speaker, Commodore Robert Bellfield CBE ADC RN. What an absorbing, amusing and entertaining speech it was. He talked about his career spanning over 30 years spent largely at sea, commanding Type 23 frigates and serving as Second in Command of the aircraft carrier HMS Ark Royal for her final commission before retirement in 2010. He also served as Chief of Staff at UK Maritime Headquarters and Commanding Officer of HMS Raleigh providing initial naval training for all Naval Ratings. Whilst talking about food supply statistics for the new Queen Elizabeth aircraft carrier he asked us to guess how many eggs, beans and sausages are consumed on the voyage. We all underestimated the reality, it was a massive amount! As he finished his speech he asked the guests to stand and raise a glass to toast the Fuellers.
After the applause had finally died down. The Beadle invited our Deputy Master to speak. Averil thanked our speaker for his really enlightening and amusing speech. She was delighted to see us all and commented how she had not envisaged her Deputy Master's one year of now 24 months to mostly be on Zoom. Due to the change of date for the dinner regrettably our Royal Master, HRH The Earl of Wessex KG,GCVO was unable to be present but he had sent a message to his very diligent Deputy Master to read out.
He wished to convey his heartiest congratulations to everyone overcoming the uncertain and confusing life we had been living, to actually be able to meet. He passed on his congratulations to all the prize winners who were finally being recognised, particularly those who had been waiting to receive their prize for a year. He continued to say that as a Company we are immensely proud of our Affiliations, both military and civilian. He pointed out that over the past eighteen months we have been reminded of the spirit, initiative and fortitude that we so admire in our armed forces, this has also been demonstrated in our communities. He felt that we wished we could increase the number of prizes to recognise the many who have gone above and beyond but that made these prizes more valuable and important.  He asked us to acknowledge these particular challenges all those in authority and leadership have had to cope with during this period and demonstrate our appreciation towards the Commanding Officers and Chief Executives of our Affiliates. We diners had no hesitation in demonstrating  appreciation to all our Affiliates. He finally wished us all a very enjoyable evening and hopes to see us in the near future.
The dinner over, we stood and again, traditionally clapped our Masters, Wardens, Consorts and Principal guests out of the Hall and joined them for a stirrup cup. A chance to share the uplifting spirit of the evening.
 Jan Harrison – Past Master & Hon. Almoner
29 July 2021