As befits a modern Livery Company, we Fuellers entered the world of social media last year and continue to experiment to find out what members and our external followers find most interesting.
After a quiet few weeks, the Facebook members group burst into life with the Inter-Livery Pancake Race. Lots of good humoured banter and some great photos, including our Junior Warden's prizewinning get-up. If you've ever wondered what Facebook is like and want to connect with fellow Fuellers, then do take a look.
Over on Twitter we now have over 240 followers, up around 40% since December. Among the eclectic mix of recent followers there's Mossbourne Academy, an aspirational school in East London; EquityinEd, who promote improving access to HE and social mobility Chief Inspector Geoff Wynne from the City Police, Fuellers military affiliate RFA Tideforce and Shrieval Candidate Erica Stary
You can get an idea Twitter activity and what attracts 'likes' and 'retweets over at: https://twitter.com/wcofuellers
On LinkedIn, our largest company group, Liverman Michael Green keeps us right up to date with company announcements, visit reports, industry news and items that don't make the web, like the presentation of members for Freedom of the City. Here's the Master with our latest City Freeman Simon Brewster, CEO of innovative engine tech spinout Dolphin N2.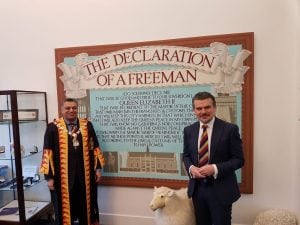 We welcome you to contact us with your feedback and news items: comms@fuellers.co.uk