"Where there's a Will"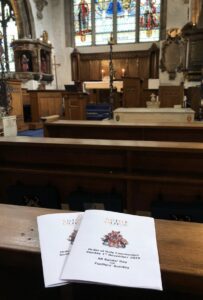 On the first of November St Olave's Hart Street's Congregation assembled for Fuellers' Sunday.  An intrepid party of Fuellers was led by the Master Elect, her consort and daughters who were joined by a select group of fellow Fuellers in person, with other Fuellers joining the proceedings virtually.  The All Saints' Day Service was led by Rector Rev'd Canon Arani Sen, assisted by Assistant Curate, our very own Fuellers' Chaplain Rev'd Nick Mottershead.  After the Service, a short walk to Cote in St Katherine's Dock where a suitably socially distanced repast was taken by Fuellers observing all the necessary protocols.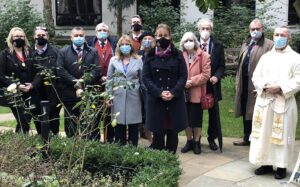 We came
We didn't touch
We were made to feel welcome
We were made to feel a part
We stayed apart, when we needed to
We listened
We read, the Senior Warden reading the Epistle
We prayed, including a new Fuellers' Sunday Prayer
We didn't sing, although the choir did, beautifully
We stayed in bubbles
We walked
We drank
We ate
We were merry
We were Fuellers together again
But we didn't sing!