Approaching by foot through a sleepy City on a cold morning, the church of St Vedast-Alias-Foster provided a warm welcome in many ways, including the joyful peel of bells. The church is dedicated to a French saint, little known in Britain, who was Bishop of Arras in northern Gaul around the turn of the 6th century. It is also supported by 5 nearby Livery Companies, including the Saddlers Company, the Prime Warden of which we met on the day.
Deputy Master Averil MacDonald hosted a modest group of Fuellers at this years event.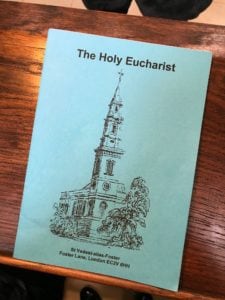 The trail of incense and sun streaming through the stain glass windows made for a beautiful setting, where Father Paul Kennedy led the service. The building truly came alive when the psalms and various interjections were sung by a lone female singer from the balcony. Both the Deputy Master and Senior Warden delivered readings during the service and the sermon was very interesting. Not least for the fact that Father Kennedy had clearly engrossed himself in our Company history and website with particular reference to the content of our latest Fueller magazine. A touch that was most appreciated as was acknowledging the recent passing of our Father of the Company, Past Master Mr Michael Bryer Ash during the prayers.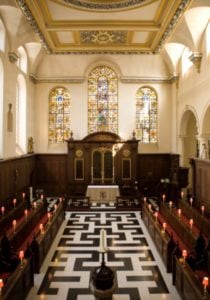 Following the service, we were welcomed to refreshments further into the historic building. Indeed, it had been completely gutted during the Blitz of WWII. A narrow passage led to a courtyard with a beautiful single tree happily established within. A few more turns later and we found ourselves in the church hall with a most welcoming host and congregation.
Upon our departure, our party then headed to Paternoster Chop House, home of "First Dates" reality TV show, though we were pleased to find they were not filming that day! A wonderful Sunday lunch was served up, with Yorkshire puddings the size of which we had never seen! All too soon it was time to depart and wend our way home.
By Senior Warden, Carrie Marsh