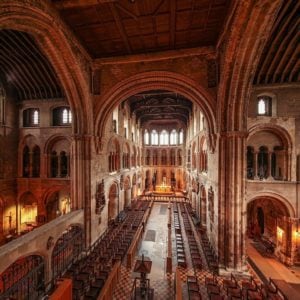 St Bartholemew the Great Church
Remember remember the 5th of November….
And so we will, not for gunpowder, treason and plot or even bonfire and fireworks but for a most memorable Fuellers' Sunday at St Bartholomew the Great in West Smithfield in the City of London, and reputedly the oldest surviving church in London, founded in 1123 as an Augustinian monastery.
Led by the Master, Chloë Andrews-Jones some 20 Fuellers and friends attended and participated in a most impressive sung Eucharist conducted by the Presiding Priest Fr. Bill Wilson and where Latin and Incense seemed to enhance this living church with its magnificent architecture and sense of history, making it an ideal setting for atmospheric scenes in many British films and TV series ranging from Robin Hood Prince of Thieves to Four Weddings and a Funeral and Sherlock Holmes. But this history also very much encompasses the City with the church's associations with local Livery Companies, including Haberdashers, Butchers, Founders and Fletchers as well as the modern companies of Information Technologists, Hackney Carriage Drivers, and Tax Advisors. A fitting choice for this traditional day in our worshipful calendar and our thanks to the clergy, churchwardens and officers of St Bartholomew's for the warmth of their reception and hospitality, including drinks and nibbles in the Cloister Café after the service where we mingled and chatted with the congregation.
And then to lunch organised by The Master at Carluccio's, West Smithfield, neighbouring Haberdashers' Hall.
Just a short walk from St Bartholomew's across West Smithfield Rotunda Garden and past the statue installation 'Joy and Peace' by Morag Myerscough, which belies the gruesome history of Smithfield which has borne witness to many executions of heretics and political rebels over the centuries, including Scottish patriot Sir William Wallace in 1305 and WatTyler, leader of the Peasants' Revolt in 1381, among many other religious reformers and dissenters. But hungry as we were you will be pleased to hear that this gave us food for thought but did not put us off our lunch at all and after a reception drink and words of welcome from The Master we enjoyed a hearty repast and the Fuellers' usual conviviality.
Our thanks to The Master for her organisation and gracious hospitality on a day that we will definitely remember, remember…..!!
Freeman Jenny Ingham
Past Mistress Fueller