Through Industry Group Chairman/Court Assistant David Lewis, the Company has a loose affiliation with the All-Party Parliamentary Group on Energy Costs (APPGEC). David is the technical adviser to this Group and through his membership, Fuellers are able to attend meetings in which they may have an interest.
Late June found the Master in a Committee Room at the House of Lords for the APPGEC meeting relating to the Offshore Wind Sector Deal. Three short presentations were followed by a lively Q&A session. The Master really recommends all Fuellers look out for David's next invitation; these are not meetings that anyone can turn up to, even if you happen to be the Master Fueller!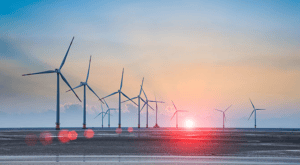 There's a lot to learn on this topic. At the turn of the millennium, the UK's first offshore wind facility opened at Blyth, operating with two turbines generating 4 MW. Successive governments having supported this sustainable power source has enabled the UK to become the global leader in offshore wind. Currently supplying 6% of UK energy needs (sufficient to power 6 million homes), the industry's ambition is to produce 30 GW by 2030 ("30 by 30"), which would be a third of UK's demand.
To meet these goals, £48 billion investment is required, but the Offshore Wind Industry Council (OWIC) claim this would boost exports five-fold to £2.6 billion a year, reducing UK system costs by £2.4 billion. These are big numbers that would benefit the jobs market too, creating as many as 16,000 jobs, many of which would be in coastal communities where there is the greatest need for economic development. Apprenticeships and jobs in innovation and engineering to name but two of many fields relating to the industry.
Fuellers' Strategy items:
engagement in industry: ☑
education in STEM subjects: ☑
apprenticeships and job in the energy industry: ☑
Offshore Wind seems to tick a few boxes!