The 'Old Wine Shades' off Canon Street was our venue on a very hot 4th July, for our introduction to a hidden antiquity, that is City of London.
Our band of Fuellers and guests descended a winding flagstones stairway, worn smooth by serving wenches and draymen long before, to enter arched cellars.  A most welcome light lunch awaited and time to meet our Green Badge guide (no blue badge for us).  Our guide specialised in this part of The City and advised we would tread the footsteps of Romans long forgotten.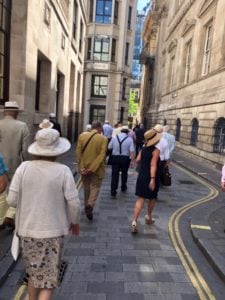 So back on the street we went, first to The Thames to hear of it's importance back to Tudor times for the import of coal and wood.  Then into the maze that was London long ago, narrow cobbled roads channelled for ghastly waste and worn by the wheels of Woodmongers and others, plying their wares for a penny or two. One could easily imagine the stench and filth that preceded us, laced by the Great Plague. On we laboured in the intense heat of the day, momentarily crossing bright, busy streets before re-engaging on our historical tour.  Occasionally we paused on the cobbles absorbing facts, some scarcely believable and most destined to be consumed by the Great Fire.
At last we surfaced into the bright sunlight of the Embankment, warm fresh air that was not always that way.  London Bridge once angled across the river, the beautiful Victorian Coal Exchange demolished for road widening and the historic Royal Exchange where the few remaining gas lights in the City of London stood to remind us of a bygone age.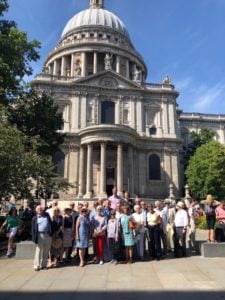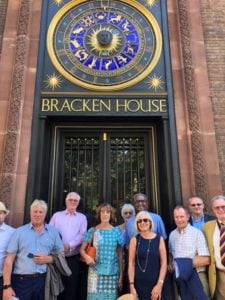 Within the shadow of St.Pauls, our tour ended and our guide bade us farewell.  A remarkable adventure by any standard and thanks due to our Master and principal organiser, Shravan.
by Mr Bert Marsh
Fueller