On a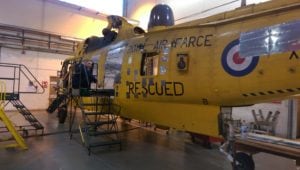 wild and wet Monday 22 livery men, 10 of whom are Fuellers, from 5 Livery Companies fought their way to HMS Sultan to attend the annual Livery Day.
After a welcome hot coffee we were welcomed to the Base by the commanding Officer, and Fueller, Captain Peter Towell who also gave us an overall view of the current position of HMS Sultan. We were then updated in more details by the CO of the Royal Navy Air Engineering and Survival School, Commander Mark Selway and the CO of the Defence School of Marine Engineering, Lt Commander Steve Mealing.
Cmdr Towell pointed out that without the qualified engineers that Sultan trains the Navy's ships and the Fleet Air Arm's helicopters would not sail or fly. y and at any time there are up to 1,400 ratings and officers undergoing training.
We left the warmth of Newcomen Presentation Room and headed for the museum which has two divisions, the Mechanical Engineering and the Airfield. A total of an hour was spent absorbing the history of Sultan's as told by the contents of the Museum and the two erudite guides.
From there we headed for the Marshalling Simulator which enable the students to carry out tasks in "real conditions". This promised to be the exciting highlight of the day. Unfortunately the software was not working and we had to abandon this part of the day and head for the slightly less technical, but apparently more reliable, steam lorry.
From the Steam lorry we went for the group photograph and lunch the host of which included officer students, mine a submariner heading to Fastlane in January.
The afternoon was divided between a details tour of the two schools before returning to the Presentation Room. Here we received a presentation on the history and current developments of Aircraft carriers including the Queen Elizabeth II and its aircraft, the shortly to be delivered ,F35s. This presentation wasa given by young rating students and was interesting informative and a credit to the young naval students who delivered it.
All that was left was farewell and the journey home. Fortunately the rain had stopped.