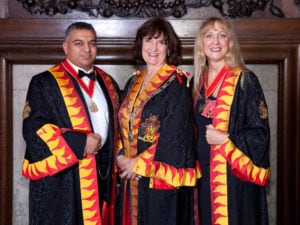 Doubled up at Dinner
Installation Court and Dinner – 17th Oct 2017 – Skinners' Hall
This was an Installation Court Dinner with a double difference. The formal proceedings took place at the Installation Court before the Dinner, but the evidence was clear.
We have not only enjoyed the service of the first Lady Master Fueller, but, like London buses, two have come along at once. Immediate Past Master Jan Harrison passed the baton to Master Chloë Andrews-Jones. (photo)
Unusually, there was a double installation of new Court Assistants (Basil Scarsella and Alan Dowdell) at the Court Meeting.   If it was not unusual enough already to have two new Court Assistants installed, it was doubly so when we had a third and Royal Court Assistant installed as HRH Prince Edward, Earl of Wessex also joined the Court.
The final doubling up? Previous commanding officers from two of our affiliates, Lt Colonel Paul Smith, previously from 152 (North Irish) Regiment and Wing Commander Tim Moss, previously from Tactical Supply Wing RAF, were admitted in their own right as Freemen by Presentation.
There were also installations of Yeomen (Emmanuel Vaz),  Freemen by Redemption (Matthew Clarke, Neil Harrison, James Lear and Guy Sawyer) and Liverymen (Max Bӧlhoff, Martin Hewitt, and Keith Williamson).
Thank goodness we had a chance to enjoy a really good meal in the Skinners' Hall, with good food, good wine and good company. After we had eaten, Senior Warden Shravan Joshi offered a warm welcome to the guests with a generous sprinkling of puns, were we doubled up with laughter?
Then we were treated to a double dose of excellent speeches from the late Lord Mayor of the City of London the Lord Mountevans and the incoming Master Chloë Andrews Jones.
All of the new installations had their moment in the spotlight as they were asked to stand and be welcomed into the Company with a stirring round of applause.
The regular traditions of the post horn gallop and the Loving Cup (three people should be standing at all times!) rounded off the evening as Fuellers and their guests left the tables to mingle in the Outer Hallfor a Stirrup Cup before drifting off into the night at the end of an enjoyable evening.