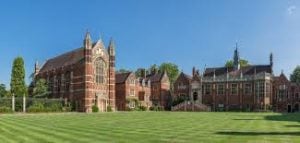 The Arkwright Scholarships Trust is a registered charity that administers the most prestigious scholarship scheme of its type in the UK with over 4,000 Scholarships awarded to date.
The Fuellers Charitable Trust has, for a number of years, supported scholars who expressed a keen interest in the energy sector.
The latest scholar that the Fuellers sponsored through their A-Levels is Maddie Studholme. She achieved 4 A*s in Maths, Further Maths, Chemistry and Physics. Maddie will now go on to study Chemical Engineering, via Natrual Sciences, at Selwyn College, Cambridge. Well done, Maddie!
The Arkwright Trust identify, inspire and nurture future leaders in Engineering, Computing and technical (as opposed to aesthetic) Design. They do this by awarding Arkwright Engineering Scholarships, through a rigorous selection process, to high-calibre students who apply when in year 11 (England and Wales), S4 (Scotland), year 12 (Northern Ireland). Their Engineering Scholarships support students through their A Levels or Scottish Advanced Highers and encourage students to pursue Engineering, Computing or technical Design at university or through a higher-level apprenticeship and to pursue careers in the field.