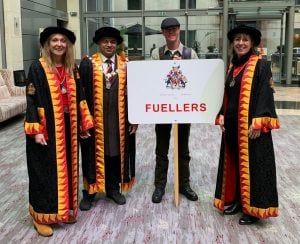 I have been attending The Lord Mayors Show for the past few years, and have learnt very quickly that the show is synonymous with rain. However, the newly installed Lord Mayor managed to arrange glorious sunshine that made this year's event a big success. Records show it is the first parade in sunshine since 1634! The Master, Wardens and Liverymen were present to represent the Fuellers Company as part of the Modern Liveries float.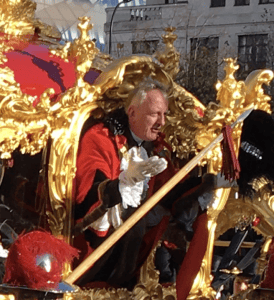 Peter Estlin is the 691st Lord Mayor of London and led the parade, which is an annual celebration and an 800 year old tradition that parades around the city of London covering three miles, with about 150 floats. The floats include carriages, marching bands, city businesses and of course city liveries. Meeting tradition with modernity, this year's parade was no less colourful, packed with military, charities, trades and schools. Peter Estlin's theme this year is "Shaping tomorrow's city today" and it was very evident with the artificial intelligence cars, modern farming vehicles and education floats we witnessed in the parade.
The show is a delightful family affair where children are almost always in awe of the friendly armed forces parading with their armour and combat vehicles. To be able to shake hands and talk to these men and women in uniform is a sure treat. The show also included a funfair, archive film show, art installations and street theatre for all the family.
The Fuellers team, led by Master Shravan Joshi, gathered early in the morning over hot coffee and breakfast with special treats for the children, who were raring to go. The procession is kicked off by the Lord Mayor at 11am from Mansion House. In the parade, the Master was accompanied by Senior Warden Averil Macdonald and Junior warden Carrie Marsh, assisted by banner carrier, Liveryman David Marsh. We also spotted our past masters, Jan Harrison and Chloe Andrews-Jones as part of the Lady Masters' Association float.
Having burnt all our energy cheering at our loudest when our company marched past and enjoying the splendid street events organised by the City Corporation, Fuellers families and friends gathered for lunch at the Grange St Pauls Hotel. A hot meal in the wonderful company of liverymen and their families was a marvellous way to close off a very busy day.
Mira Joshi