On a wet November Saturday morning, The Master, Wardens and Liveryman David Marsh participated in the Lord Mayor's show, representing the Fuellers' Company in the Modern Liveries float.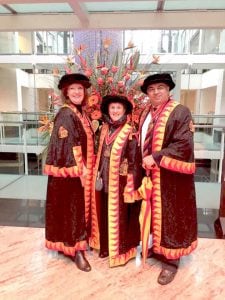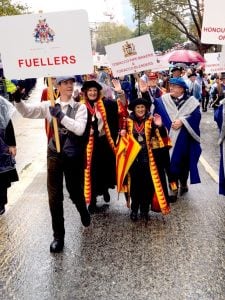 This is a procession unlike any other in the world. With over 7000 participants, 20 bands, 150 horses, hundreds of other carriages, carts, coaches and other vehicles including vintage cars, steam buses, tanks, tractors, ambulances, fire engines, unicycles, steamrollers, giant robots, helicopters, ships, penny farthings, beds and bathtubs.
The procession set off from Mansion House at 11am. It paused at the Royal Courts while the Lord Mayor gives his oath and then returned up the Victoria Embankment. The families and friends who came along for the day had a wonderful lunch at The Grange St Paul's hotel, whilst the participants were refueled aboard HQS Wellington.
The rain did lighten up through the morning and the crowds spurred on the participants, cheering and high-fiving Livery company Masters and Wardens, as they paraded through the streets of the City.
We were further encouraged by the BBC interview with the Modern Livery Companies float organiser, which also caught sight of the participating Fuellers in the background.
The day ended with a fabulous fireworks display to celebrate the incoming 689th Lord Mayor, Alderman Andrew Parmley.