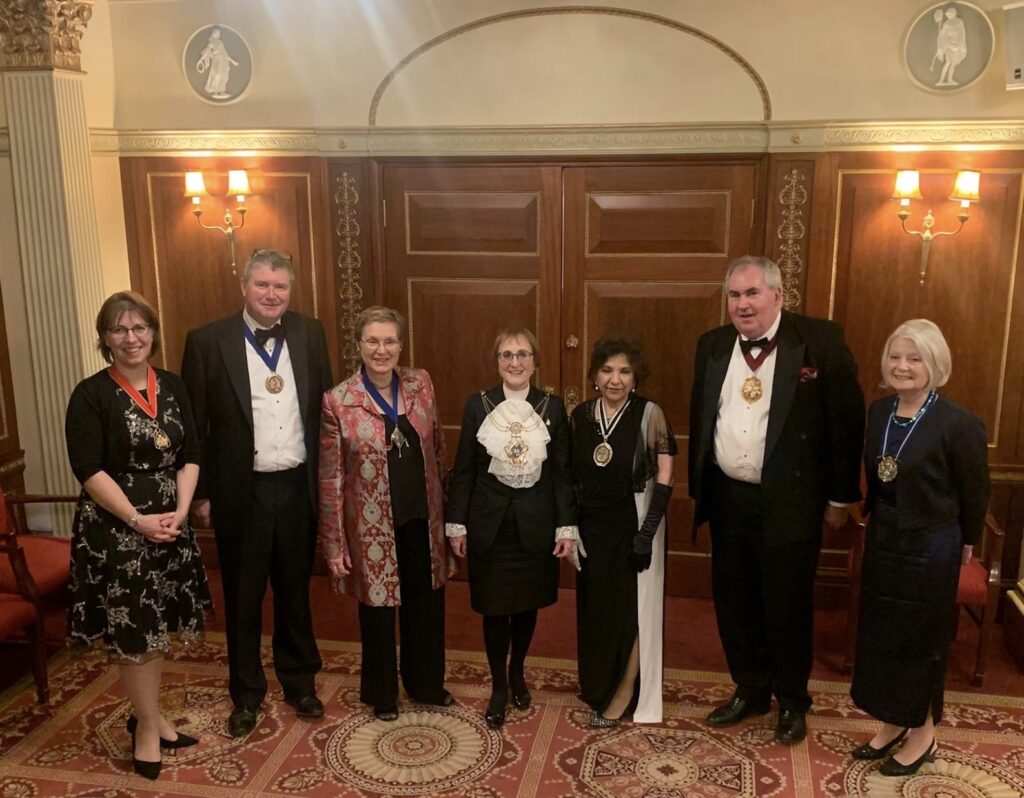 Magnificent Seven Dinner
Steve McQueen, James Coburn, Horst Buchholz, Brad Dexter, Charles Bronson, Robert Vaughn and not forgetting Yul Bryner; galloping across a dusty prairie and into a frontier town. Cue silver screen soundtrack and roll credits for….."The Magnificent Seven"!.....Cut!!
Hmmm, Let's try that again shall we?
Evening in the City of London, folks dismounting from taxis, tube trains and of course 'Shanks's pony'. Not dressed in dust Stetsons and jingling spurs but in dinner suits and glamorous attire and this time not moseying into a saloon but instead gliding into the resplendent Plaisterers Livery Hall. Rin the soundtrack of convivial chatting and the clinking of glasses and roll the credits for; "The Magnificent Seven, A celebration dinner for Alderman and Sherriff Alison Gowman and her seven associated city liveries.
On 16th February 2022 it was a delight to be invited to dine at the beautifully neoclassical Plaiterers Hall alongside Alderman and Sheriff Alison Gowman and her seven and of course most magnificent associated livery companies. The Glovers, Upholders, Solicitors, Chartered Surveyors, Plaisterers, Constructors and Fuellers. Guests were personally greeted and immediately made welcome with a champagne reception giving us all time to catch up and relax in our sumptuous surroundings. The Plaisterers Hall is wonderfully decorated with 18th Century styled Robert Adams plaster and wood designs, which have been faithfully reproduced many from the original moulds.
Our splendidly large gathering was then called into the banqueting hall with the sound of the gong ringing in our ears for a fine dinner preceded by an excellent spoken grace and followed by a sung grace accompanied all along by a piano which really added to the classic ambiance. And I really must congratulate the table staff who were efficient but above all engaging, cheerful and friendly .Thank you.
The principal guest was Daphne Cave the Master Glover, who treated us to an enlightening potted history of Alderman and Sheriff Alison Gowman's life and works. Alderman and Sheriff Gowman's response was heartfelt and really conveyed her passion for the city, including particular interests in the financial and environmental sectors, but also for the historic and colourful side of the square mile and its still very important pageantry, in which she reminisced about her first visit to the Guildhall as a child and how she marvelled not at the building but a huge cake in its foyer.
Once the toasts were made, we joined our masters and other guests in a generous stirrup cup, and more mingling and catching up bought the evening to a close.
As those members of the "Magnificent Seven", departed for their 'carriages' it was with a warm sense of camaraderie and smiles. And as we headed into the night and Waterloo Station I took a last look around at the similarly magnificent, lamp lit City of London, it was splendid to be back again and without a Tumbleweed or Stagecoach in sight.
Dave Marsh
Liveryman and Master's Consort.