Introduction
I hope you all enjoyed the Christmas and New Year break and are suitably refreshed for an exciting and fun 2023. A very happy new year to you all. So what has your Master and the Wardens' been up to post Christmas and in January 2023?
As you know I am working with others on communications for your benefit. This includes the Fueller Communication Committee chaired by Michael Green who will be populating the social media communications; the Editor of The Fueller magazine, Lynn Postle; the Editor of E News, Louise Thompson and our Clerk Alex Maclean Bather.
I am happy for and would encourage any feedback on this e mail. I thank you for those who have commented so far.
Tuesday 10 January, Plaisterers Company Annual Masters and Clerk's Dinner
To "kick off" the New Year for many Livery Companies is the annual Masters and Clerk's Dinner hosted by the Worshipful Company of Plaisterers at Plaisterers Hall. This is a relatively new Hall opened in 1972 but is a very grand neoclassical style with an especially ornate ceiling and chandeliers. It is the largest livery hall in the City Of London. The evening was a great success and was attended by almost 300 people from 70 different livery Companies. A special opportunity to renew old contacts and make new ones in the Livery World.
Wednesday 11 January, Fuellers New Year Court Meeting and Court Dinner
I chaired the New Year Court meeting held in a committee room at Guildhall. Certain IT challenges meant the hybrid gathering did not work too well; however, it was overall a successful meeting. We covered a very broad agenda and admitted Andrew Turner as a new Court Assistant. The new structure of reporting through sub committees to GPC and GPC to Court is bedding in very well.
Afterwards it was time to relax and our Court member Consorts joined us for dinner as my guests. We moved into the Guildhall Club private dining room where we enjoyed a drinks reception and a fantastic dinner .This annual Court dinner is an excellent opportunity to thank the Consorts for their support and contribution to the Fuellers. I presented each Consort with a small gift as an indication of my appreciation.
The guest speaker at this dinner was our own Past Master, Deputy Shravan Joshi MBE CC who talked about the City of London Corporation and his new interesting role as Chairman of the prestigious Planning and Transportation Committee. He also kindly handled a Q and A session. The relaxed evening continued with lots of chatting and was a very successful event.
Below are Andrew Turner, Shravan, Lynn Postle and our Clerk looking very dapper.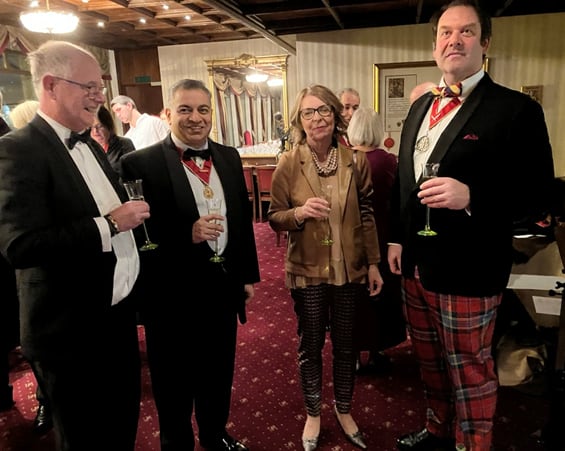 Friday 13 January, the Annual City New Year Service and reception at Drapers Hall
For over half a century, this service has been the prime fixture for senior figures in civic and business spheres to meet, to renew links and to welcome the coming year. Attending were the Lord Mayor's Sheriffs, the Governor of the Bank of England, many City dignitaries and representatives from most of the Livery Companies. I attended with my Consort Jan, and our Clerk. St Michael's Cornhill was packed with standing room only.
After the service we all took the short walk onto the lunch reception at Drapers Hall generously provided by the Worshipful Company of Drapers.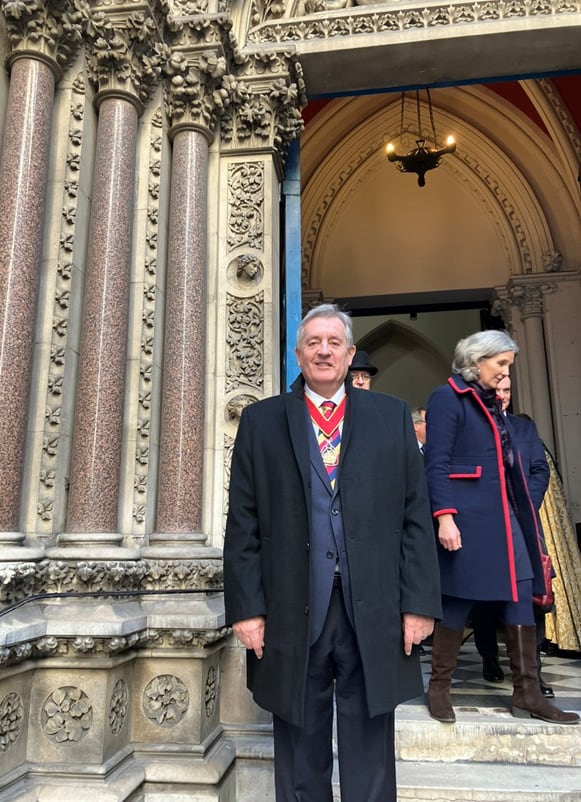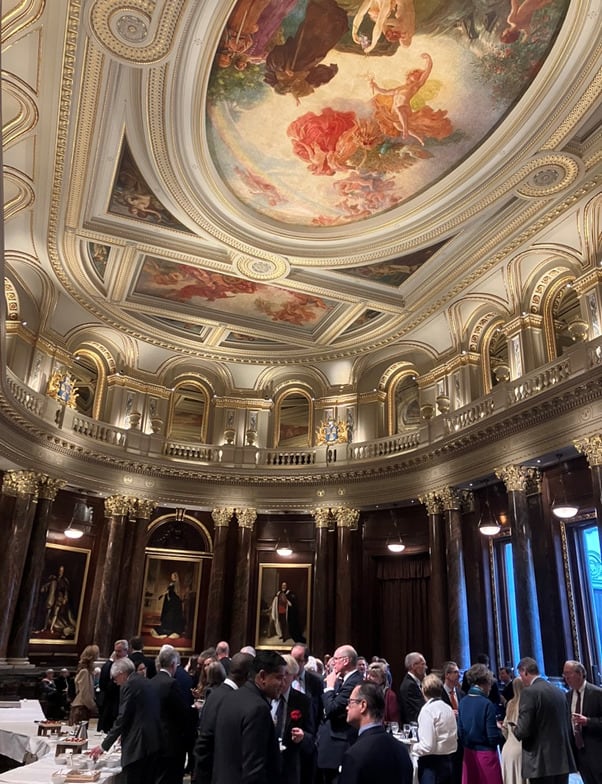 Monday 16 January, Fuellers Visit to Citigen Smithfield
The Fuellers visit to Citigen had been postponed from 13 December, and went ahead today and was oversubscribed. This facility is run by E.ON and is a fascinating power generator in the City of London at Smithfield hidden away behind a grade 2 listed building. We started the visit with a one hour briefing from the General Manager and then put on our hard hats and high visibility jackets for a one hour tour of the facilities. This included the latest technology in the City Energy control room.
The Citigen site was originally a coal fired power station opened in 1894. More recently E.ON has transformed it into a state-of-the-art sustainable low carbon urban energy supply for the City of London, replanting it in 2013. It now provides heat and cooling from natural gas powered generators, electric chillers as well as leading edge heat capture. This is done from three ground source wells drilled in 2021 which are 200 meters deep as well as the capture of other waste heat sources on site for increased efficiency. We learnt how it is an integral part of the City Of London environmental targets.
Citigen has 11 kilometres of underground pipes supplying the Barbican Estate, The Guildhall and many other commercial and residential properties.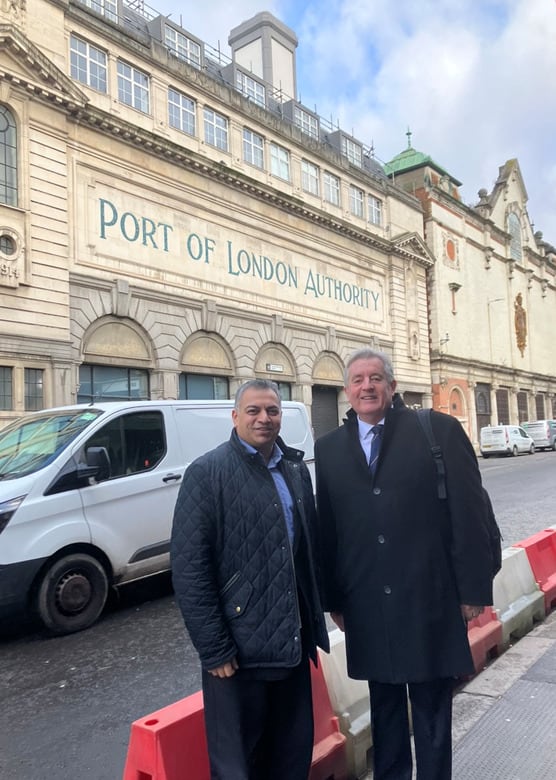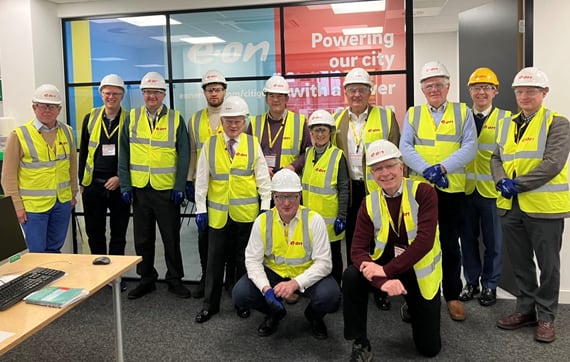 Wednesday 18 January, Reception to Launch "City Of London Chamber"
This reception was held at The Guildhall Art Gallery. It was the inaugural event to launch the new City of London Chamber. This is a new business group within the London Chamber of Commerce and Industry which will champion the voices of business in the Square Mile providing business connections and addressing local business issues.
The event was packed with over 250 attendees from all walks of business life within the City, including many Livery Companies.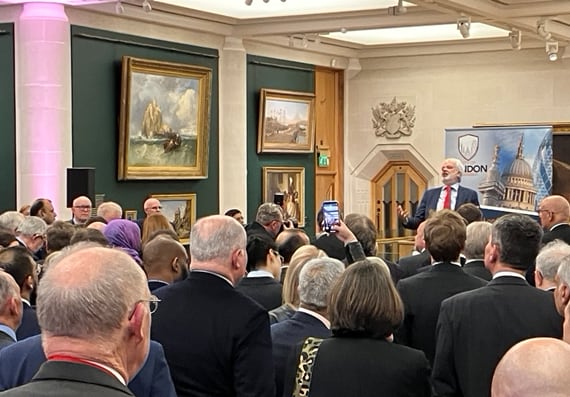 Monday 23 January, Water Conservators Myddelton Lunch and the Worshipful Company of Chartered Accountants Masters' and Clerks' Dinner
A full day. This started with the Water Conservators' Myddelton Lunch at Trinity House. I and the Clerk had the pleasure of attending this annual event. We heard about the Water Conservators strap line which is "Promoting a diverse and sustainable environment". It was a full room and the Guest speaker was Rear Admiral Brian Perowne CB DL. The event concluded with the presentation of certificates and Bursaries to 9 student essay winners from around the UK.
Below is the Master Water Conservator, speaking.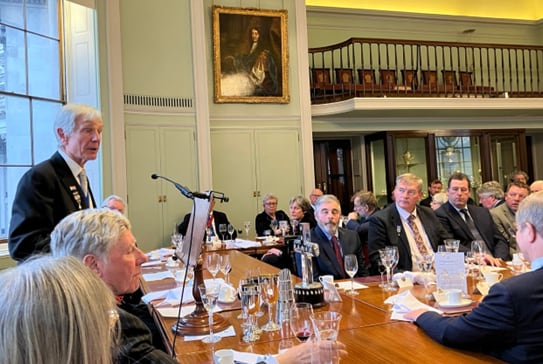 This was then followed in the evening with the Worshipful Company of Chartered Accountants Masters' and Clerks' Dinner held at the Chartered Accountants Hall. This is an event aimed at the members of the Livery Financial Services Group and other Masters who are Chartered Accountants. Which I am. I attended with the Clerk in a small intimate relaxed event.
The speaker was an entrepreneur, Guy Rigby, who later in life was looking for a new challenge and rowed the Atlantic with a friend and raised over three quarters of a million pounds for charity. A real heart-warming story. This was many years ago but his hands have still not fully recovered!
Below is the Master Chartered Accountant speaking with Guy seated next to him.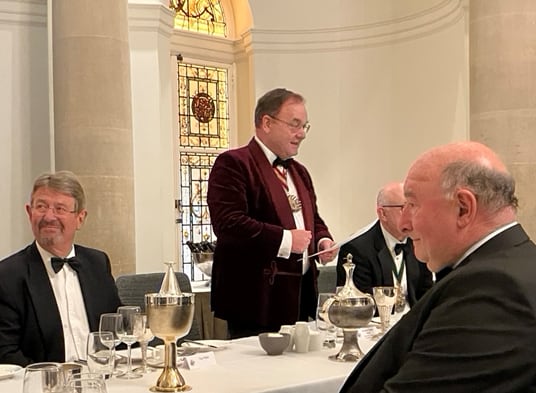 Wednesday 25 January, Worshipful Company of Carmen Installation and Rededication service with lunch followed by the SSAFA armed forces Charity evening reception
As an Honorary Liveryman of the Carmen I attended with Jan and the Clerk, the annual Carman Installation and rededication service. This had been delayed from October 2022 due to illness. The event was very well supported.
We all mustered at Saddlers Hall and paraded behind the Carmen banner to St Mary-le-Bow on Cheapside while the bells pealed out. We had many curious looks. The service included the new Master, Andrew Turner, dedicating himself to the Carmen.
St Mary-le-Bow and Saddlers Hall both have a fascinating history going back many hundreds of years. Both being burnt down a number of times and bombed. Accordingly the Church was rebuilt in 1964 and the Hall in 1956/58.
On the return parade to Saddlers Hall, again lots of curious looks. At Saddlers Hall the Master then completed a special ceremony where he selects his vehicle for the Carmen "Cart Marking" ceremony later in the year on 22 July. The car was a primrose 1924 Bullnose Morris Traveller van.
We then had a marvellous lunch with the Master's friend delivering an amusing speech about the Master.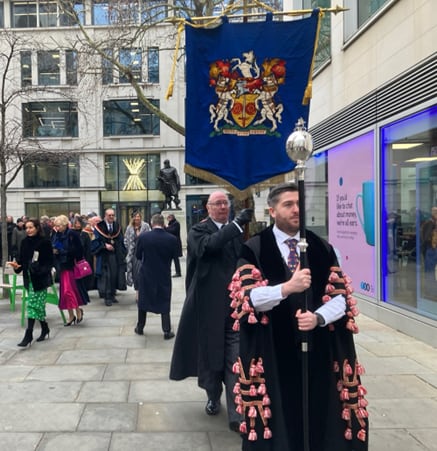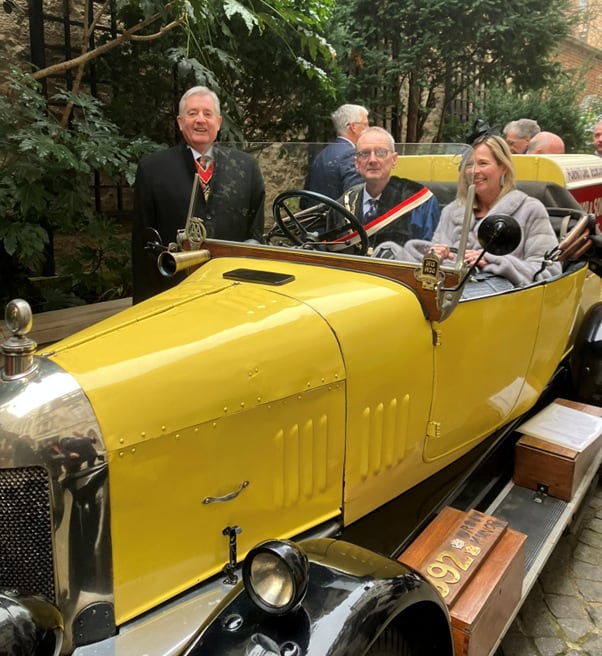 In the evening I and Jan went to a Livery Company reception at the Honourable Artillery Company held by the joint armed forces Charity "SSAFA". They explained about the work they do and how the Livery Companies can help by raising their profile, funding and providing mentors. A very moving and powerful event.
Thursday 26 January, Officers monthly zoom meeting
I and the two other Officers, James Cripps and Elena Oderstone, held our regular monthly zoom meeting. A great way to keep in touch and to help ensure the smooth running of the Fuellers.