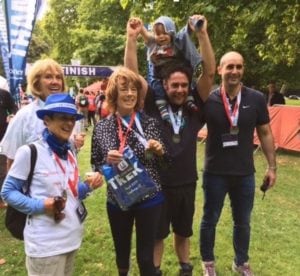 The Master and her team including Fueller Suzan Woods, the Master's son who is soon to be admitted as a Freeman, her nephew and a very good friend, successfully crisscrossed 16 bridges over the Thames from Putney Bridge to Tower Bridge completing the 25 km. at Southwark Park. They were part of over 2,800 people completing the walk, organised by Action Challenge.
The team were well supported during the day by Past Master Dennis Woods, and members of the Master's family including her husband and Consort Peter Harrison.
The Master would like say a huge thank you to everyone for their generous donations which will benefit the charities supported by the Fuellers Charitable Trust and make the sore legs worthwhile. The total raised is currently over £3,000.