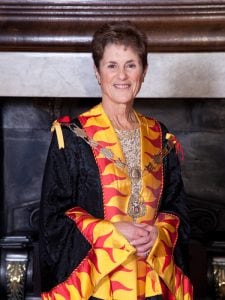 Wishing you all a Happy and Healthy New Year from the Master and welcome to our new Fuellers website. This is a real asset to the Company, we have invested time and effort in updating this website as communication with our members is key.
The last few months since I was installed as Master in October 2016 have certainly flown by and it has been a privilege and joy to represent the Fuellers both on my own and with Peter, my husband and Consort to many events. I am very pleased the Company continues to develop and build its reputation in the City and I hope I can be a small part of this.
Thank you for your support and it was a great delight to welcome so many of you at our Company events which included my Installation Dinner on 18 October, Fuellers Sunday on 30 October, the Lord Mayor Show on 12 November and our Fuellers Conversation on 23 November. Not forgetting our last event of 2016 the Fuellers Carol Service and Supper on 5 December.
Please keep an eye on the diary for all our future events in 2017 which will be updated regularly on this website. I look forward to welcoming you all.
Again I wish you all a happy and prosperous New Year.
Jan Harrison
Master