Fuellers E-News is a new monthly newsletter delivered to members by email, sharing what's new, recent and up-coming events within the Company pulling together the web site, social media and diary in one handy update. Our first edition is brought to you by Comms Group member Louise Croucher.
In our Communications survey last year members expressed the desire for more news, more often, and preferably by email. So now there are three ways to keep up to date besides Calling Notices and Announcements from our Clerk - social media when it happens, The Fueller magazine with at least three editions per year, and this new monthly e-newsletter.
Fuellers Social Media - news and views as they happen
If, as a member, you have not yet explored our other social media outlets yet, you could join our 64 members on LinkedIn, 40 on Facebook and a select 15 following on Twitter, together with 90 from City and Livery organisations  Receive news updates and contribute your own views.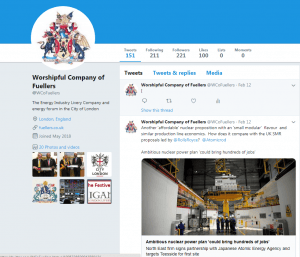 Twitter hosts news and comments of the moment, from the Company and Master covering all our main themes: Energy industry, membership & fellowship, charities and affiliates (the Royal Feet Auxiliary is especially active) and supporting the Livery movement, an increasingly important theme over 200 followers in all.  There's something interesting every day.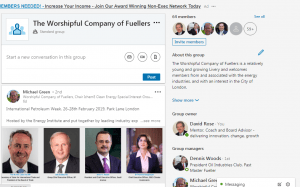 LinkedIn is where you will find events and visits, Masters and Warden's activities on behalf of the Company, and industry and business topics and announcements with a more formal flavour.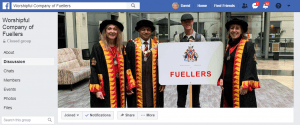 Facebook is similar to LinkedIn though with a more social, light-hearted and informal flavour. Here you will also find pictures of recent events to give you a feel for the many different engagements which the Master, Wardens and members attend. Not sure what an event is about? Why not look up the last one and see for yourself.
The LinkedIn and Facebook Groups are private, ie Fuellers only, while Twitter is public. They can also alert you when a new item is posted so you never miss out.  If you'd like to follow these social feeds, just click the links. If you aren't already a subscriber and are concerned about privacy, then you can sign up with the minimum of personal information. Why not ask a family member friend or colleague to assist!
Members feedback please
Members' feedback and ideas across all our social media platforms are welcomed!  Your input will help the e-News evolve and stay in tune with your interests.  We also welcome social news contributions, especially energy topics for LinkedIn and Twitter.  So please do get involved and email comms@fuellers.co.uk.
Enjoy the first edition winging its way to members shortly!