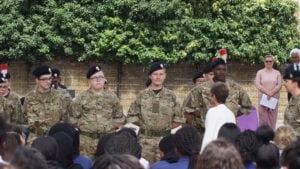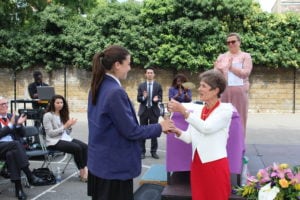 The Fuellers are proud of our long standing and close relationship with Platanos College in Stockwell. Platanos is an all abilities, mixed academy school taking pupils up to GCSE level.
The Fuellers have for some time worked closely with Platanos, especially in the area of extra-curricular, uniformed services which help to build student confidence, lifelong skills, community involvement and a team ethos. The Parade Day is an annual event and an important day to celebrate the success of such team activities as well as the individual prize winners. The Fuellers were proud once again to attend and participate in this day.
On a hot and sunny Friday lunch time, the Master, her consort Peter Harrison and the Chairman of the Fuellers Charitable Trust, Stuart Goldsmith were able to attend the Platanos College Parade Day.
The grounds were packed with many of the pupils attending along with teachers, friends, relatives, family members and others from the Community.
Our Master was pleased to be asked to be the opening guest speaker and then also had the honour to present all the individual awards. These are given for those who have shown outstanding skills, teamwork and leadership.
To the accompanying small brass band, each uniformed section carried out a formal march past in front of the gathered audience and we all listened eagerly to a number of other inspirational and interesting speeches, including ones from ex-pupils and the West Indian Association of Service Personnel. A number of pupils also provided an excellent musical performance. The uniformed services parading today included the St Johns Ambulance Cadets, The Girl Guides, the Police Cadets, The Scouts and the Army cadets.
The Master was especially delighted to donate and present for the first time this year the Fueller's Harrison Cup to student, Jasmine Scott for her outstanding contribution to Platanos and the community. This Cup will now be given as an annual student award from the Fuellers.
For more information on Platanos College, see the Fuellers Charitable Trust Website Page.