On Monday 2nd December 2019, our year 8 Academic Leaders attended a talk by Andrew Turner, an experienced engineer. This talk, and the subsequent discussion, was part of the school's ongoing Academic Lecture Series, sponsored by the Worshipful Company of Fuellers.
Mr Turner gave year 8 pupils an overview of what is involved in a career in engineering. It was made quickly apparent that engineering is to do with the creation of literally everything – from the making of arrow heads, to the first iron bridge over the River Severn, to making MRI scanners.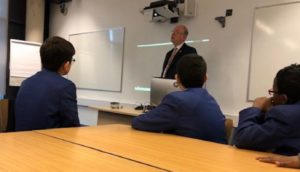 In addition, Mr Turner informed pupils of the pathways needed in order to become an engineer. For example, it is a progressive career, well-paid and challenges the brain immensely.
After an overview of what engineering is, the discussion amongst us all took to climate change and Mr Turner made it clear
that it will be engineers who
will lead the improvements in
getting the UK to become carbon neutral by 2050.
It was thoroughly enjoyable and provided us with a lot of food for thought in terms of whether we want to go into a career in engineering in the future.
By Cristovao Nunes Teixeira, 8A