On a cool and slightly misty morning, the Livery assembled in the South transept of St Pauls Cathedral for the service of Remembrance, attended by Their Royal Highnesses Prince and Princess Michael of Kent. Also attended by the Aldermen and the Lord Mayor among others, it was such a delight to be able to sing and together our voices filled the vaulted ceilings.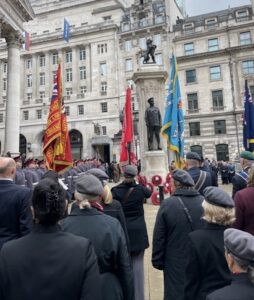 The cathedral was full of uniformed personnel of all backgrounds and a sight to see as the choir sang the most angelic Psalms and Anthems. The Lessons were read by Lance Corporal Kitty Connolly, City of London Academy of Islington (Honourable Artillery Company) Combined Cadet Force and Alderman Vincent Keaveney, The Right Honourable The Lord Mayor.
During the address The Very Reverend Dr Davis Ison highlighted the names inscribed on the various walls of the Cathedral and, quoting Pixar's animation 'Coco', impressed on us to keep remembering those who gave their lives to keep their memories alive. When somebody is no longer actively remembered, due to time continuing on and those who remember passing themselves, their names live on through the memorials.
At 11 o'clock exactly, the Last Post had just been sounded and we stood in silence for 2 minutes while listening to the strike of the Cathedral bells to mark the hour. Having kept the silence, the Reveille was sounded and followed by prayers. Soon it was time to conclude and, after the Lord Mayor and Royal Party had left through the Great West Door, our own Clerk and one other led the procession of Livery Masters and Clerks through the South Door and into formation to march to Bank where the Aldermen lined the steps, and we were joined by several other groups such as Old Comrades, Scout and serving military who also laid wreaths after the Lord Mayor and Prince Michael.
We made a colourful site stood under the red balcony of Mansion House sharing in the salute of those passing out of the parade, surrounded by quite a crowd before we too made our way onwards, leaving a vibrant display of wreaths against the light grey background.
Lest we forget.
Carrie Marsh
Master