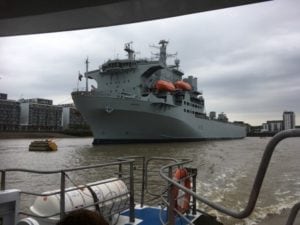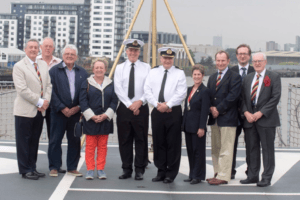 LIVERY DAY AT RFA ARGUS
Fuellers were invited to join the Carmen, Master Mariners and Cooks for a visit to RFA Argus, which exceptionally was moored on the Thames in Greenwich. The Argus is a support vessel for the Royal Navy and predominantly serves as a landing base for helicopter training flights and as a hospital ship. Its recent tours have involved, inter alia, providing disaster relief in the Caribbean and around Africa, as well as receiving casualties during the wars in Iraq and Afghanistan.
Once on board and having climbed a good number of stairs, we were rewarded with refreshments and a tour of the ship. We saw the flight deck, the space beneath it where helicopters are stored and maintained, the various wards and units of the hospital, and last but certainly not least, the bridge.
We were given a detailed and highly informative presentation of what the various ships of the Royal Fleet Auxiliary had been up to, including Wave Knight and Wave Ruler, the two RFA vessels affiliated with the Fuellers. This was followed by lunch and refreshments, and we were kept in very good company throughout our visit by quite a large contingent of personnel serving on the Argus, including Commodore Duncan Lamb himself.
This was a very successful and well-attended Livery Day and we are already looking forward to the next RFA event in 2018.
by Max Bohloff