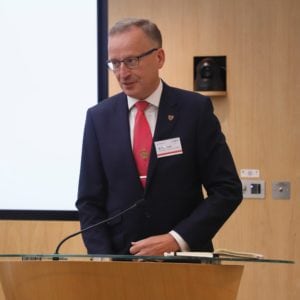 The Company is delighted to announce the next in the series of Fuellers Conversations in conjunction with EY to be held on 31 October 2019, hosted by IPM Paul Cuttill, pictured here.
Book through this link to  Bookable events on the  home page 
'Assessing renewable energy investment and attractiveness. How do you build a solid future in an evolving energy landscape?'
Principal Guests and speaking to the subject are Phil Dominy EY Director, Corporate Finance – Energy and Infrastructure supported by Sami Zubair and Lavaanya Rekhi Executives from Phil's team.
The arrangements are that we will gather from 17.30 onwards and at 18.15 the Conversation will be introduced by Jon Clark EY EMEIA Leader for Oil and Gas and a Liveryman Fueller, with networking drinks at the conclusion of the Q &A session. There is no charge for this event but donations are welcomed to the Fuellers Charitable Trust Fund.
Venue:  EY Office 1 More London Place SE1 2AF.