On Friday 9th November, the great and good of the City gathered at a historic Silent Ceremony in the Guildhall (so called because it is mainly conducted in silence) to welcome the 691st Lord Mayor of London to his new post. After a gathering of Aldermen, Common Councillors, Sheriffs, other dignitaries and invited guests had taken their seats, some entering during the silence, bar the ominous sound of synchronised foot on stone, following the time old tradition of years gone by.
The only voice briefly heard was that of new Lord Mayor Peter Estlin as he took his oath. The outgoing Lord Mayor then moved to his left and summoned the incoming Lord Mayor to his seat. The new Lord Mayor donned his tricorn hat and simultaneously the newly former Lord Mayor removed his, symbolising the transfer of power. The officers then took it in turn to present their symbols of office, the Sceptre, Seal, Purse, Sword,  Mace, Collar of SS and Badge, each taking three steps forward, then bowing and presenting the symbol. The new Lord Mayor touches each in turn, then the officer takes the symbol and walks backwards, bowing, essentially reversing the process.  Finally, the incoming Lord Mayor undertook to safeguard the silver and furniture at Mansion House, signing for the "plate".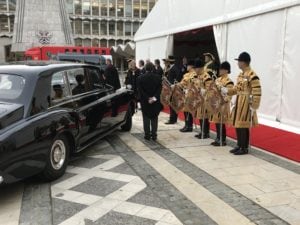 As the new Lord Mayor left the Great Hall, the bells of the nearby Lord Mayor's church, St Lawrence Jewry pealed out with great pageantry as a fanfare was also sounded. Lucky with the weather, onlookers were treated to the spectacle of the beautiful Rolls-Royce which came to whisk them back to Mansion House. It is in this car that the Swordbearer removes his fur hat and takes out the key to the seal of Christ's hospital. It is handed to the outgoing Lord Mayor, who passes it to the new Lord Mayor, who returns it to the Swordbearer, who promises to "keep it under his hat". The new Lord Mayor then returns to Mansion House for a celebratory lunch.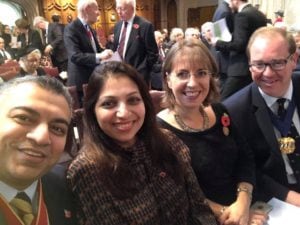 The Fuellers were represented by  Master Shravan Joshi and Mistress Mira, with Junior Warden Carrie Marsh and enjoyed the company of Master Tax Advisor.  They enjoyed the event taking in the pomp and ceremony (in silence of course), whilst admiring the many carvings and shields within Guildhall – and noting the placement of the Fuellers Crest proudly located above the proceedings!
by JW Carrie Marsh